Videodrone Announcement: 'The Avengers' Assemble and a Classic Movie 'Monster' Mash on Blu-ray
'The Avengers is set for September 25 and 'Universal Classic Monsters: The Essential Collection' arrives on October 2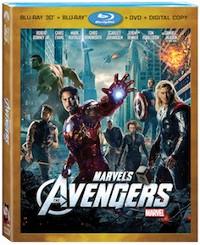 "The Avengers
" (Disney), the biggest superhero extravaganza to date and the biggest box-office hit of 2012, is set for a September 25 release on Blu-ray, Blu-ray 3D, DVD, and digital download. 
The home video options range from single-disc DVD (which will include a featurette and a commentary track featuring director Joss Whedon) to a four-disc combo pack with Blu-ray (both standard and 3D editions), DVD, and digital copy, plus more supplements. 
Directed by Joss Whedon and starring Robert Downey Jr. as Iron Man, Chris Evans as Captain America, Chris Hemsworth as Thor, and Mark Ruffalo as Bruce Banner (and The Hulk), plus Scarlett Johansson, Jeremy Renner, and Samuel L. Jackson, the film dominated the box-office for weeks (it's earned over $1.4 billion globally to date) and promises to be one of the biggest-selling movies on disc through the holiday season.
"Universal Classic Monsters: The Essential Collection" (Universal) features the Blu-ray debut of nine classic horrors from the golden age of Universal horror movies. The official press release only claims eight -- "Dracula" (1931), "Frankenstein" (1931), "The Mummy" (1932), "The Invisible Man" (1933), "Bride of Frankenstein" (1935), "The Wolf Man" (1941), "Phantom of the Opera" (1943), and "Creature from the Black Lagoon" (1954) -- but among  the supplements is a ninth feature that should be treated as an equal in this company: the 1931 Spanish language version of "Dracula" produced on the same sets with a different cast. 
Universal has lavished attention on previous special editions of these films on DVD and all of those supplements (including information-packed commentaries from horror movie historians and featurettes on each and every film) are included, and more, such as the home video debut of the original 3D version of "Creature from the Black Lagoon" (no information on format) in addition to the standard presentation. 
The collection, scheduled for release on October 2, will also include a 48-page book with stills, art, and other paraphernalia. 
Continue reading at Videodrone for the complete press release and a trailer for "The Avengers Blu-ray.
See the updated "Coming Soon" page for Blu-ray  and DVD releases through September here
Are you sure you want to delete this comment?