Movie Marketing You May Have Missed: Trailer for 'Crazy Eyes'
Just another story about love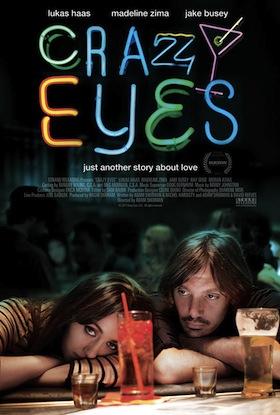 Los Angeles can drive anyone to drink, but it's particularly adept at soaking shiftless millionaires in booze. In Adam Sherman's "Crazy Eyes," Lukas Haas plays Zach, a Hollywood playboy who passes the time drinking, partying, and having his way with an endless parade of LA's most gorgeous ladies. Zach's life doesn't amount to much and, whether he realizes it or not (hint - he doesn't), he's in need of a serious life change. That serious life change is
not
Madeline Zima's Rebecca, but Zach is soon captivated by her (she's the one he calls "Crazy Eyes"), and his deep feelings for her push him on to a new path. 
"Crazy Eyes" does indeed sound like "just another story about love," but the film has more than a few surprises. And, as sweet as that plotline might sound, Rebecca has her own demons, too, and her relationship with Zach is not an entirely healthy one. I saw and
reviewed the film
at this year's SXSW Film Festival (which is where that totally awesome pull quote on the film's Apple page comes from), and I enjoyed it immensely. Despite a somewhat basic plotline, Sherman presents a frequently honest film, and Haas and Zima both turn in solid performances worth a watch. It's a story about love, but it's not just another throwaway romance in the slightest.