Videodrone New Release: Aliens Sunk My 'Battleship'!
The Hasbro game is turned into a splashy action spectacle
By 
SeanAx
 Aug 28, 2012 10:41AM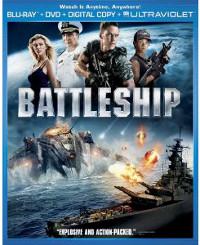 "Battleship" (Universal) - Poor Taylor Kitsch. The break-out star of TV's "Friday Night Lights" leapt into mega-budget big screen spectacle with both feet and ended up headlining the two biggest tentpole flops (or at least the two most notorious megabudget underperformers) of 2012: "John Carter" and this, a navy-versus-aliens spectacle loosely inspired by a Hasbro board game.
Kitsch stars as the Hawaii beach bum who joins the Navy to get out of a jail sentence and ends up at ground zero of an alien invasion during what are supposed to be routine naval exercises. Did I mention his brother (Alexander Skarsgard) is a career Navy man? Or that he's involved with the dishy daughter (Brooklyn Decker) of the hard-case fleet commander (Liam Neeson)? Or did you just assume that was part of the backstory? Rihanna co-stars as an officer who jumps into the fray.
""Battleship" sounded like a truly tedious cross-marketing platform masquerading as a movie," admits MSN film critic James Rocchi. "What a surprise, then, that it winds up being a truly great summertime film, a big, bold blast so swaggeringly expressed and self-knowingly built that it wins you over with its sheer bravado."
Continue reading at Videodrone
For more releases, see Hot Tips and Top Picks: DVDs, Blu-rays and streaming video for week of August 28