Cannes Review: 'The Hunt'
Mads Mikkelsen and director Thomas Vinterberg give us a gripping, finely-tuned drama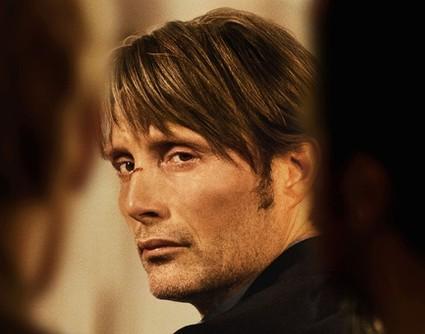 Being at Cannes -- being at any film festival, really -- is a little bit like a time machine; you go into the festival's darkness and come out, five or eight or ten days later having witnessed the next year of film, or at least the highlights. But if the delights of that journey in the cinematic time machine have a price, it's that while you're in it, time itself speeds up -- a film debuting here can be stabbed in the heart by poisoned pens or downturned sneers before its second screening at Cannes later that day, never mind its release to theaters later in the year. Early word on the street (and tweet) said that Thomas Vinterberg's "The Hunt" was a glorified made-for-TV movie, a melodrama elevated by the pedigree of its director and the shakiness of the camerawork.
And I've rarely been so glad to disregard the word on the street, because "The Hunt" is a finely-made, gripping and superbly-crafted drama, one that caught me up in both worry for and sympathy with all of its characters, one that takes a complex topic and distills it to clean, concise scenes that move you. Mads Mikkelsen is Lucas, a Danish 40-ish daycare teacher in the middle of a painful divorce and a series of negotiations about the fate and destination of his teen son Marcus (Lasse Fogelstrøm). But he has friends -- old friends, co-workers, hunting buddies, the extended community of a small town where everybody knows your name. And when one of Lucas' charges, Klara (Annika Wedderkopp, in an astonishingly good child performance) has a slight crush on Lucas and he gently rebuffs her, her hurt feelings and recent experiences turn into the suggestion -- made to the daycare's head, Grethe (Susse Wold) -- that Lucas has somehow acted inappropriately. Such allegations must be taken seriously. And soon Lucas is in a nightmare, accused by many and reviled by more, clinging to his life and sanity by a slender thread that grows more and more frayed.
What keeps "The Hunt" from descending into mere soap opera, for me, was essentially how it's not just Lucas' story, instead a portrait of a town too small to hide in and friends too close to give up, created by Vinterberg and co-writer Tobias Lindholm.  When Lucas is taken in to the station house for his preliminary hearing and initial imprisonment, we don't stay with him, as we would in a lesser version of this material; we follow Marcus and his godfather, Lucas' friend Bruun (Lars Ranthe), and all of the worry and tension and caring that entails. And while Mikkelsen (best-known in the States as the blood-weeping bad guy in "Casino Royale," but with a rangy, relaxed look here) delivers a superb performance, he's also part of a great ensemble, including notable work from Wedderkopp, Wold, Fogelstrøm, Ranthe and Thomas Bo Larsen as Lucas' best friend and Klara's father.  
Lucas is not in the wrong -- and we know this --but it's nigh-impossible for him to prove that, and his innocence doesn't mean he can't make mistakes; while I could hear the Cannes audience bate its breath at the things happening to Lucas, you could also hear them gasp at Lucas' actions when he reaches the breaking point.  (A friend of mine had a thesis that the best dramas are the ones where all the characters are a little bit wrong -- while his proof was "Crimson Tide," it's still a valid idea -- and that applies here.) 
The camerawork is sumptuous, capturing everything from sun-dappled forests where men kill animals to fluorescent-lit supermarkets where men hurt each other, tense discussions and tenser silences. The film unfolds from November to Christmas Day, with a "One Year Later" coda that's both warm and brutal and also utterly necessary. For all of the film's Danish touches -- drinking games and hunting songs -- it's also a universal story, Kafka combined with "To Catch a Predator." As I said, I could have ignored "The Hunt" based on the majority of mutterings and tumblr-ings in the swift, turbulent wake after its debut, but I'm very glad I didn't; it's one of the more interesting dramas here at Cannes this year, one that enthralls in the theater and, to its credit, stays with you afterwards.
("The Hunt" is currently premiering in competition at Cannes.)