Dwayne 'The Rock' Johnson to star in movie based on a drawing?
Eh... Why not?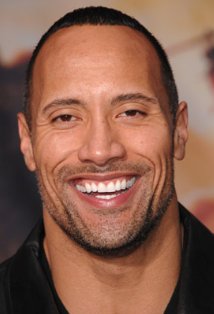 What say you, Hitlisters? Does
this picture
, titled "Sweet Halloween Dreems" by Alex Panagopoulos, seem like the basis of a good movie? How would one go about making a movie out of a single drawing, anyway? Is there any historical precedent for this? Actually, there is: "The Usual Suspects" arose out of screenwriter Christopher McQuarrie's idea for the film's poster, to pick just one prominent example.
In any case, whether it seems like a good idea or not, the movie is happening. According to
the Hollywood Reporter
, New Line Cinema, Dwayne "The Rock" Johnson, and the other guy's responsible for "Journey 2: The Mysterious Island" have purchased the rights to the pic, and intend on adapting it for the screen, maybe even making it a franchise. The title? "Teddy Bear." Potential poster tagline: "Protecting little girls from monsters under the bed since 1902." Why 1902? Because that's when the teddy bear was invented, by Morris Michtom, after being inspired by a political cartoon about President "Teddy" Roosevelt refusing to shoot a bear.
Will "the Rock" costar in the flesh, or will he only voice the presumably CGI bear? Or could he possible play the monster under the bed? Does this have to be one of those CGI/live action abominations, or could it be fully animated like, uh, "Monsters, Inc.?" Only time will tell. More details as they become available...