Michael Bay Confirms 'A Whole New Reimagining' of 'Transformers'
Has been working on fourth installment with Steven Spielberg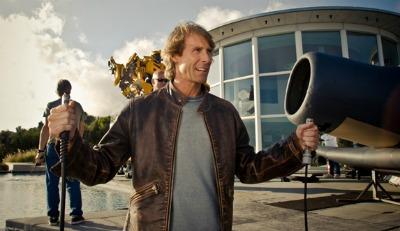 Earlier this week, Corwin shared with us
the earth-shattering news
that, despite months of denying such reports, Paramount is indeed set to reboot Michael Bay's "Transformers" franchise, with Bay returning to direct. That news came out thanks to producer Lorenzo di Bonaventura, a slip of the tongue that perhaps kicked Paramount into high gear to announce the project in a formal manner, by way of an exuberant press release confirming both the reboot and Bay's involvement.
But what says Bay who has, for many months, denied such a return to tussling robots? Bay took to
his own website
to discuss the new project, albeit briefly. Bay writes:
"To clarify uninformed reports coming out of Toy Fair - Steven Spielberg and I are working on a whole new re imagining of Transformers, the fourth installment. We have been working on the idea for a few months. I'm excited about where it's headed. But first I'm doing a small $20 million dollar edgy black comedy of a true crime story set in Miami called "Pain and Gain," staring Mark Wahlberg and Dwayne Johnson, and very close to signing on a couple other great actors. I'm extremely excited to simplify my film career this spring with a great character piece. That starts filming at the end of March. I might then jump onto a very cool television show my company Platinum Dunes is selling to a major cable network. It might be my first pilot I might potentially direct. We are still working out the details of the deal."
What exactly could "a whole new reimagining" mean? Certainly a new cast of humans, though all those robots will likely stick around (what is a "Transformers" film without Bumblebee?). Considering that the plot of the third "Transformers" film, "Transformers: Dark of the Moon," pretty much guaranteed that the entire human race is well-aware of the intergalactic existence of mechanical beings that can turn themselves to anything with an electric spark, it will be interesting to see just where Bay intends to take this next film. Interesting and, of course, loud and with giant-scale action sequences that are both hard to follow and headache-inducing.
Also, if you're interested in Bay's next, "Pain and Gain," check out the real-life story that inspired it, as covered in an engrossing report from
the Miami New Times
. [
TG Daily
]

I, for one, hope "reimagining" means that they will clean up the vulgar language so that parents can feel okay about letting their kids see it more than the one time at the theater.  The second & third installments contained so much unnecessary vulgar language that I didn't even bother to buy them on DVD since I cannot, in good conscience, let my eight year old sit down & be exposed over & over. The movie is after all, based on toys; you'd think they could clean up the language. The first installment was great. In fact, he still watches it occasionally to this day. Here's to hoping!

I'm an immature male and even I agree with you. I didn't understand why they felt it necessary to use the language in Transformers. I love R-rated movies - but come on, it's the Transformers. I watched the cartoon, played with the toys and read the comics as a kid. I want my nephew to get the same jolt of imagination I did as a kid, not an uncomfortable feeling about watching it with his mom.


Thanks! 100% agree. I watch plenty of R-rated movies, just not with my kid. Foul language is totally appropriate at the right time & place. I just thought it felt out of place in Transformers. If you notice the swear words, if they don't just flow with the moment, IMO, it is not well written.

Spielberg needs to reimagine "Transformers" without the painful overdramatic touches of Michael Bay.  For a younger viewer, the poor story-lines, over-use of cinematic sunsets and IMAX vantage point screenshots might not be apparent, but to a real childhood fan of the Transformers and fan of sci-fi films in general, those last 3 films were solely commercialized endeavours with no real sense of artistic pride by the director.  It's even more painfully obvious how the budget was spent when the special effects (agreed hard to follow and headache inducing) well exceeded the poor acting (or overacting for Shia's part) of the "actors/models."  If you're going to drop a hundred mill, get Ridley Scott, Cameron or, heck, even give your buddy George a second chance.  Lastly, Transformers was never really about the "human relationships" but really the relationships between the robots.  Save some money and stick to the robots; pay your voice actors. Don't get me wrong, a beautiful woman (tip of the hat Ms. Erbland) owning some action on screen (a la Beckingsdale) doesn't offend, but at least have an ounce of acting talent.  But if Steven wants f-bombs, hot chicks and the occasional panoramic sunset out of context, then by all means...reimagine the same crap.

Despite the reboot, you can still expect another robotic snuff film with plenty of stale humor, bad dialogue and unnecessary slow-motion action scenes prompted by the same pseudo-patriotic music and symbolism.  Cue the "down the shirt" and "up the skirt" cams on the lead actress to distract the audience from the fact that there isn't really a coherent plot or message to the film.  Throw in lots of things blowing up and robots being decapitated, spitting "blood" and having their "spines" ripped out, and voila!  Transformers 4!


Are you sure you want to delete this comment?