Interview: Jude Law of 'Anna Karenina'
'When a director has that kind of a vision ... I'm excited.'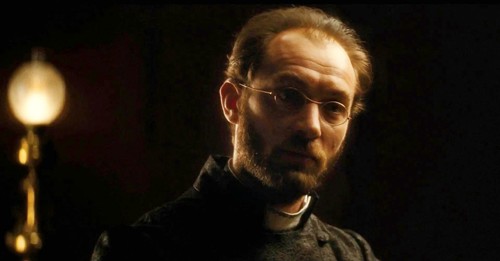 Slumped in a chair in a hotel suite in Toronto, Jude Law looks very different from Karenin, the ramrod-stiff and proper Russian bureaucrat he plays in Joe Wright's film version of "Anna Karenina," which sets Law opposite Keira Knightley in the title role. It's just another transformation for the busy actor, who's also on-screens this holiday as the voice of the bad guy Pitch in "Rise of the Guardians." We spoke with Law in Toronto in September about working with Wright, accessing the past and the physical work that goes into an emotional role.

MSN Movies: When you looked at the script and saw what Tom Stoppard and Joe Wright were doing with the presentation of the film, setting it all in this theatrical setting, were you intimidated or fascinated?
Jude Law: Fascinated, but just to clarify what happened in fact was that Joe approached me, and obviously Keira was already involved. He was assembling the cast. The script was in place. It was this elegant and sparse and beautiful adaptation by Tom Stoppard  from what is to most a very intimating term of detail and nuance and genius by Tolstoy. But the decision to set it the way  ... didn't come until much later. Joe had this epiphany and I think he was tired of being told by these location scouts that seven "Anna Karenina"s have been filmed at this place, and six Keira Knightley films have been filmed at another. And he decided, he had this vision, and I think he also suddenly realized he could embrace a new and passionate and essential language that would highlight parts of the story, the theatricality of the story, the masks and roles that we put on in love. And I was thrilled. I think  ... when a director has that kind of a vision, personally I'm on board and I'm excited to be led in that way.
BING: Jude Law l 'Anna Karenina'
Your character's much older than Anna, his wife, and for that, you put on all of a cloak and a frock and the round glasses and pushed back hairline of a sort of older Russian aristocrat. When you look at that kind of physical transformation is it gratifying, or is it just part of the job?
 A little bit of both. I mean there's certainly something gratifying on the day that you've achieved the goal, which is to construct someone realistic even if it's something different from you yourself. But ultimately, that is the job and therefore it is just a job.
Did you find yourself enjoying or being able to get into this very rigid and flexible socially bound mindset of a Russian…
Of course, yeah. That's what drew me to it. There was a challenge in that he had qualities that I'd not necessarily investigated as an actor before, and there were physical challenges there too, in a world that Joe encouraged to be balletic and very rhythmic and sensual. I always saw Karenina as this foil to that, and he is this sort of metronomic, consistent, and yet hushed stillness if you like in Anna's life. And all of those qualities were the reason I got involved. They were the reason I sort of thought there was something there for me to play with ...
For more on "Anna Karenina," check out our video interviews with the cast: 
"Anna Karenina" is in limited release starting today.

For more information about movies, check the MSN Movies Facebook page and the MSN Movies Twitter feed.