Celebrate America's Vampire-Killing President the Traditional Way!
With an 8-bit video game?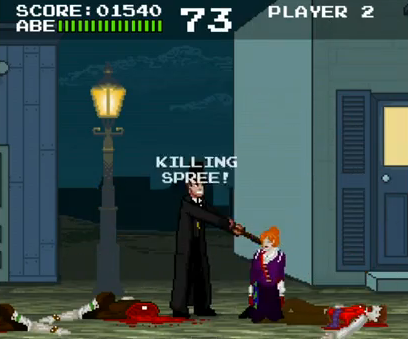 America, I hate to break it to you, but President Abraham Lincoln was not a vampire killer (no matter what this week's new release, ahem, "Abraham Lincoln: Vampire Hunter" tries to tell us). The new film, adapted from Seth Grahame-Smith's book of the same name and directed by "Wanted" helmer Timur Bekmambetov is revisionist history of the strangest variety, and despite some aggressive 3D and a deadpan tone, the film isn't nearly as enjoyable as something so damn silly should be. Fortunately, today brings with it not only the film's release, but a fun little fake 8-bit video game to go with it.
Strangely enough, this newly released video of the video game (meta) made by Freddiew Gamez is a whole heck of a lot more campy fun than the actual film itself. Why didn't a movie version of this get made? The game goes through three stages (cribbed right from the film but, weirdly, not played in order) and includes such fun moments as "killing spree!" and "speech attack!" It's not even remotely accurate, but it's goofy and creative fun.

After the break, take a peek at the hypothetical "Abraham Lincoln: Vampire Hunter" 8-bit game. Would you want to play? Are you seeing the film this weekend?