Kristen Wiig joins cast of 'Anchorman' sequel
The further adventures of Ron Burgundy and friends should hit theaters this Christmas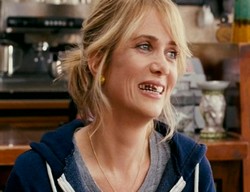 Nearly a decade after "Anchorman: The Legend of Ron Burgundy" became an improbable hit, Paramount finally gave the green light to Will Ferrell, director Adam McKay and producer Judd Apatow to make a sequel. (Just not their proposed musical follow-up, although one can only imagine...) Production on "Anchorman: The Legend Continues" begins this spring, and with Ferrell and the rest of the Action News team -- Paul Rudd, David Koechner, Steve Carell and Christina Applegate -- returning, the remainder of the cast is being rounded out with each passing day.
According to
The Playlist
, Apatow alum Kristen Wiig will be joining the film -- news confirmed last night via Applegate's
Twitter account
-- and although the specifics of her role are being kept under wraps, one recurring rumor makes me happy: that the "Bridesmaids" star may be playing the wife of Carell's especially obtuse Brick Tamland. Will they have a three-way with a lamp? Anything is possible when "Anchorman: The Legend Continues" hits theaters on December 20th.