Adele to perform 'Skyfall' theme at Oscars
Ensuring viewers of at least four minutes of good television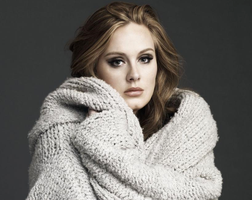 Let's be honest: in recent years, the Academy of Motion Picture Arts and Sciences has seriously botched the Best Original Song category. First they arbitrarily changed the rules, immediately disqualifying songs that didn't meet an exacting list of arcane, nigh-impossible criteria, like "needs to arise organically from the plot" and "can't just play over the end credits." Then they all but eliminated the performances on the Oscar telecast, pointlessly denying audiences the opportunity to see, for example, Eminem deliver "Lose Yourself" at the top of his game. Because who would want to see that? Then they changed how votes were tabulated, and lowered the requisite number of songs that had to be nominated, etc.
Of course, nothing's been done to address any of the above issues, but this year's ceremony promises to be a nice return to form. Amongst the nominated songs are an original from an actual musical—"Suddenly," from "Les Miserables"—a pop hit that just might be best Bond theme in
decades—"Skyfall"—an​d
three others that have no chance of winning from movies we may or may not have ever heard of. And in welcome news, the show's producers have just announced that Adele herself will perform "Skyfall" during the telecast, assuring audiences of at least five minutes of watchable television.
The appearance will apparently mark Adele's first "live" performance on American TV since last year's Grammy ceremony, for whatever that's worth. The songs all but assured win will come as small consolation for "Skyfall's" legion of fans, since the film otherwise failed to garner even a measly Best Picture nomination. The Bond franchise will be honored with one of those inevitably boring montage sequences to commemorate it's 50th anniversary, however. So we have that to look forward to as well...