Interview: Samantha Barks of 'Les Miserables'
'People say "You made me cry," and I say "Sorry, but YAY!"'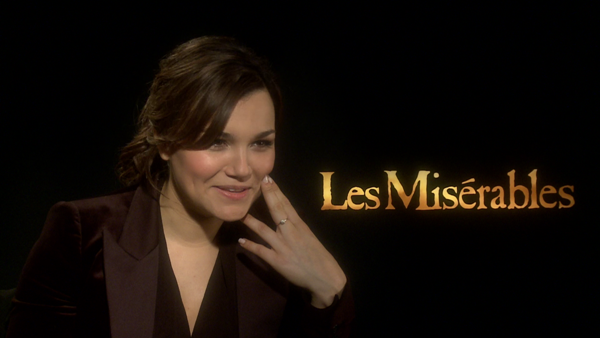 After an unlikely route to live performance on London's West End -- notably through a reality TV show in  England -- Samantha Barks was plucked from "Oliver!" to play Eponine in "Les Miserables" on-stage for a year, then hand-selected by impresario Trevor Nunn to play Eponine in both the Les Miz 25th Anniversary Concert and the film version. Bubbly with the charge of her good fortune, Banks spoke with us in New York about transitioning from stage to screen, how little her stage experience meant on-set and how much joy she takes in making people cry. 
MSN Movies:  You have a year experience playing this character on stage. You were in the 25th anniversary production. Was there a temptation to walk around and say, "Well that's not how we did it" or did you just relax to experience the filming of it?

Samantha Barks: No, there was definitely no sort of overconfidence there when you walk on set and there's Hugh Jackman, Russell Crowe, and Anne Hathaway. It's kind of like "Ohhhhhhh," so excited to just be a part of it. I did have experience with this character and with the piece from the West End production and the 25th anniversary, but this was coming at it from a very different point of view. We coming at it to create, take the elements from the musical with sort of buzz of live theater and that live performance but to add the intimate details from the novel that wouldn't read on stage but would read on a camera. So it's kind of looking more into the background of these characters and creating something new.
But also doing these huge visions of these giant sets to depict revolutionary era of France that you couldn't do onstage. Would you step on set or on location and go blank at the spectacle of it?
BING: Samantha Barks l 'Les Miserables' 
Yeah, because I think for me, you spend a year of your life on stage and picturing what this world would look like because there are elements of a barricade or a Parisian street, but the rest of your mind is kind of picturing this world so that you can share that world with an audience. But on this film set you didn't have to do that. You'd walk on and there was the Parisian street, and it's bigger and better than you ever imagined it. It a really surreal feeling, actually 'cause you don't have to use that part of your imagination. It's right there.
Were you not used to where to play for the camera? Mr. Hopper had multiple cameras set up so you can record everything…
Yeah.
…multiple angles, single takes. Was the multiplicity of cameras nice in that you didn't have to point at just one and you could focus on a performance?
What was exciting was say something like "On My Own" they had like three cameras set up so you can do a full one shot. That number is done in one take, and it can capture different elements of it without having to chop and change. The hard part was, I remember there was one scene actually where we had to build a barricade and Tom just went, "Okay, ten minutes of rolling the camera. Build the barricade. Go. Everyone." And we went: (Screams). There's people throwing couches down from the windows…
Desks coming out of the windows…
Yeah. There was adrenaline pounding, and the thing was he had cameramen dressed up as students running around in the streets so you're kind of like, you'd turn and look at the camera and he'd be like, "No, don't look at the camera." And you didn't know where they were so it's kind of exciting. It sort of captures those moments of pure adrenaline.
Does it feel good to know that with this incredibly emotional moving story that you'll be helping legions of moviegoers get at least one good cry this holiday?
I love that. People keep saying, "Oh yeah, you made me cry." And I'm like, "Sorry, but yay!" That's kind of a good thing. It makes me happy in a really strange way, but it's kind of weird. People have been saying they've been crying ugly tears, which is amazing to me. That totally sums it up because it's not that kind of graceful like "Hmm" that you get, that romantic tear. It's like the face contorts. I love that. I love when I see somebody's face just go and just melt into tears. (Laughs) Weird that I love that, but I do ...
For more about "Les Miserables," see our video interview with the cast and crew:
Want more Movies? Be sure to like MSN Movies Facebook and follow MSN Movies Twitter.