All-Time Busts: New Release 'Creature' Hits Low Notes
Clocks in at fifth worst opening since 1982
This post-Labor Day weekend box office was destined to be a weird one - the undisputed end of summer was also marked with the ten year anniversary of a national tragedy. Would people even want to go to the movies? And, if so, what did they want to see? An outbreak thriller from Steven Soderbergh (answer to that one - yes, "Contagion" won at the box office)? An MMA tale of two brothers (not so much - "Warrior" underperformed despite outstanding reviews)? A "comedy" about porn that looked to be one of the worst films of the year ("Bucky Larson: Born to Be a Star," need I say more)?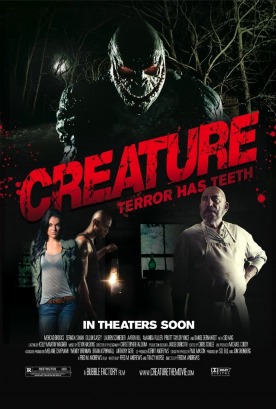 Or a horror film that was opening wide, despite having almost no audience awareness? That would be "Creature." And that film would have not only the worst opening of the weekend, not just the worst opening of the year, but one of the top five worst openings since 1982 (when
Box Office Mojo
started keeping track of this kind of stuff). 
The film opened on 1,057 screens (for comparison, "Warrior" opened on 1,869 screens) to just $331,885. That breaks down to just $220 a theater. If we imagine that ticket prices average out to $9, that means each theater saw about 24 patrons this weekend for a "Creature" screening. A cursory glance at showtimes shows that the film has about five screenings per theater, and over three weekend days - that's about one and half (ouch!) patrons per screening. Have you witnessed worse? Certainly, but on a wide release in an opening weekend? Not likely - and that's why "Creature" has earned the distinction of having the first worst opening weekend in Box Office Mojo history. Oof.
So just what the heck is "Creature"? The film apparently revolves around a group of friends who end up in the Lousiana back country, where they discover some sort of swamp monster - a creature. Directed by Fred Andrews, it stars Mehcad Brooks, Serinda Swan, and Daniel Bernhardt. If you are thinking to yourself "who, who, and who?" - don't worry, that's the correct response. The film marks Andrews directorial debut (he also co-wrote it), as the helmer has previously worked principally as a production designer on TV shows like "CSI: Miami" and "Without a Trace." The cast has a similarly television-heavy series of resumes. But is that to blame for the failure of "Creature"?
Do you remember seeing a poster for "Creature"? Or a trailer? Did you know anyone who saw it? Even I haven't witnessed a piece of marketing for the film. This would not be weird for a limited release on a cheap-o horror flick, but a wide release?
Makes you wonder what Bubble Distribution was thinking - was a bad release the aim? Cinematic notoriety? Probably not, but don't you kind of want to see "Creature" now?