Lucas Black Is Pee-Wee Reese In '42'
Actor also joins some other movie we don't care about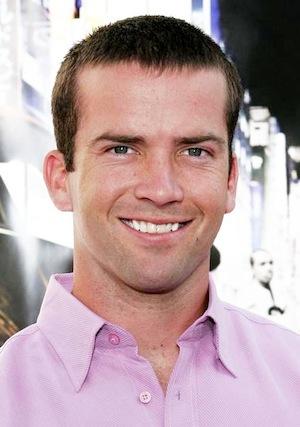 Ever since Chadwick Boseman and Harrison Ford were announced as top-lining "42," the currently filming biopic of baseball legend/American hero Jackie Robinson, we at the Hitlist blog have been wondering who the producers would find to play the pivotal role of Pee-Wee Reese. According to
Deadline
, the producers have found our man: "Fast and the Furious: Tokyo Drift" star Lucas Black.
For those unfamiliar with Robinson's story, Pee-Wee Reese was—at the time of Robinson's rookie season in 1947—the shortstop of the Brooklyn Dodgers; Reese, respected as much in the clubhouse as he was adored by fans, would prove instrumental in gaining Robinson's trust and winning him widespread public acceptance. One memorable, possibly apocryphal story has him crossing the diamond to throw a supportive arm around Jackie's shoulders, quieting the vicious, racist abuse of the crowd during an early season game.
Although Jackie would play first-, second-, and third base (and left field, all spectacularly) throughout his career, in the minors he was a shortstop just like Reese. Pee-Wee thus had every reason to distrust and resent Robinson, whose every success would challenge his position. Reese's unequivocal support of Robinson was thus even more meaningful, and we're guessing the film will at least mention that fact, if not make it a major subplot.
As for Black's casting, we will try to withhold judgement. Black is certainly charismatic, and certainly has the whole stoic, understated heroism thing down, but we remain unconvinced of his true acting talents. Admittedly, "Tokyo Drift" might be a poor example of his craft, not demanding anything more of him than to sit in front of a green screen, grunt occasionally, and look rebellious. Here's hoping our cynicism is unfounded, and that he proves us wrong in the role.
Oh, he was also cast in another movie, Gus Van Sant's "Promised Land," in which he will play a guy who does stuff and has things happen. Whatever. Really, though, he's our Pee-Wee Reese now, for better or worse. "42" is coming together nicely, and that's really all that matters.

If you want a true taste of the true acting abilities of Lucas Black, you need to watch him in "Get Low" with Robert Duvall, Bill Murray and Sissy Spacek.  What a surprising movie! And please tell me you have seen "Sling Blade" and the TV series "American Gothic?"  I have been a Lucas Black fan for quite a while.

I think the guy that is writing these stories nuts.  I don't like the way he puts down people, and what there about.  Lucas Balck has been around a long time.  He does just fine, and as for him saying that the movie is not something anyone cares about anyway...Well that may apply to most, but not all.
Are you sure you want to delete this comment?