'The Hunger Games' On Track To Beat 'Breaking Dawn'
Finally, good taste and common sense prevail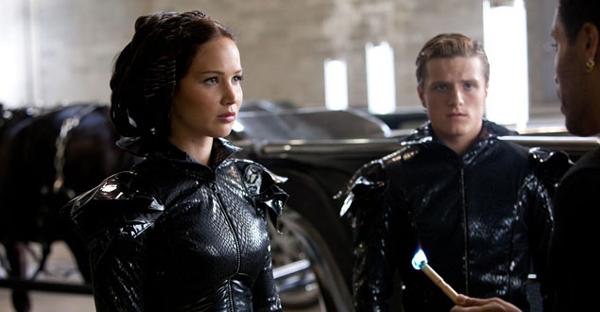 Good vs. Evil. David vs. Goliath. Red Sox vs. Yankees. Boxers vs. Briefs. Democrats vs. Republicans. Shampoo vs. Conditioner. These are but a few of the eternal, everlasting conflicts that have long captured man's imagination.
Get ready to add "The Hunger Games" vs. "Twilight" to that list.

According to
The Hollywood Reporter
, advanced tracking statistics now have "The Hunger Games" out-grossing "Twilight: Breaking Dawn - Part I" its opening weekend. As if the growing flame war between the two series' respective fan-bases needed more fuel.
For those who don't remember—or would prefer not to—"Breaking Dawn" made approximately $140 million on its opening weekend back in November, the fifth biggest of all time. Early tracking numbers had "The Hunger Games" making around $70 million, but that estimate has been repeatedly revised upwards as awareness grows of the film's March 23rd release.
The main differences between "Hunger Games" and "Twilight?" Apparently, that it actually has some appeal outside of 14 year old girls. According to the numbers, 28% of men younger than 25 years old are interested in seeing Jennifer Lawrence brutally murder a bunch of teenagers, whereas only 10% of those polled were interested in seeing Taylor Lautner fall in love with a newborn baby. For men older than 25, those numbers change to 20% for "Games" vs. only 8% for "Twilight." Which suggests that men not only have better taste as they grow older, but generally have better things to do than go to see young adult adaptations. At least in the theater.
What do you think, Hitlisters? Will you go see "The Hunger Games" opening weekend? How much do you think it will earn? And where do you come down on the great "Twilight" vs. "Hunger Games" debate? As always, let us know in the comments...