Will 'The Hobbit' Become A Trilogy?
Certain industry prognosticators believe so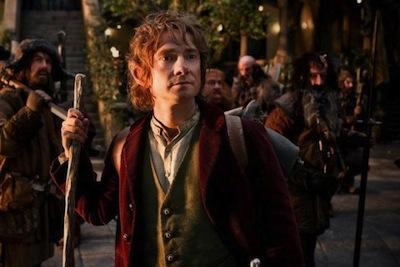 Ever since the Warner Brothers (wisely) decided to split the seventh and final "Harry Potter" film into two, stretching out the final installment of similar adaptations has become
de rigueur
in Hollywood
.
The "Twilight" gang was the first to jump on the bandwagon, eagerly splitting up "Breaking Dawn" into two films. Did the story warrant such a treatment? Hardly. But the film made $700 million worldwide, so they're not complaining. Lionsgate was next, preemptively deciding to make "The Hunger Games" trilogy a tetralogy before the first film even came out. Only time will tell how that decision pans out. Now, however, industry
prognosticators—name​ly
Deadline
, but also
Entertainment Weekly
 and others—are predicting Peter Jackson will do the same with his upcoming "The Hobbit."
Casual observers will note that "The Hobbit"—which is still only one book, and not a particularly dense one at that—has already been split into two films, "An Unexpected Journey" and "There And Back Again." The idea all along was to ostensibly tell the complete story of "The Hobbit" in the first film, and then use the second film to fill in the gaps between that book and "The Fellowship of the Ring," tying up all the loose ends in the franchise. Has that plan changed? Will the story of "The Hobbit" be (unnecessarily) split into two, leaving this potential third film to bridge the narrative gap between trilogies?
The prevailing sentiment on these here interwebs appears to be "yes." Peter Jackson himself laid the groundwork for such a discussion weeks ago at Comic-Con, telling audiences "There's other parts of the story that we'd like to tell that we haven't been able to tell yet." But what, exactly, is he alluding to? Apparently an 125-page Appendix from "The Return of the King," in which J.R.R. Tolkien went back and expounded upon plot holes from "The Hobbit," fleshing out its story in the context of his later work. Because—interesting fact—when he originally wrote "The Hobbit," he had no idea that he would later go on to write "The Lord of the Rings." So... There's that.
What do you think, Hitlisters? Yay or nay on a third "Hobbit" movie? Excited by the prospects of more adventures with Bilbo, Gandalf, Legolas et al. from Middle Earth?  Or angered that the studio is needlessly padding/stretching out their films, possibly diluting their
pleasures/compromisi​ng
their quality in the almighty quest for more of our hard-earned money? (And all at 48 frames-per-second.) As always, leave your thoughts in the comments...