Weekend box office: Jessica Chastain kicks butt
'Zero Dark Thirty' takes the lead after moving into wide release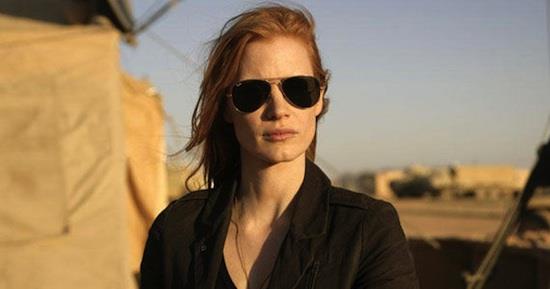 Despite the controversy regarding the depiction of torture in "Zero Dark Thirty," the Kathryn Bigelow film scored nationwide during its first big weekend. Speaking of torture, the Golden Globes were given out last night with Jessica Chastain winning Best Actress honors for that film and paying homage to Bigelow who was overlooked in last week's Oscar nominations. It was hardly a banner weekend for the movies—maybe everyone was home watching Tina Fey and Amy Poehler's great hosting for the otherwise humdrum awards show.

While it's been in limited release for the past month, the polarizing "Zero Dark Thirty" jumped to the #1 position in the North American box office as soon as it opened wide. The film earned $24.4M (at 2,937 theaters). The abysmally reviewed comedy horror flick, "A Haunted House," came in at #2, amassing $18.1M (at 2,160 theaters) and embarrassing the weekend's only other big studio release, Warner Bros.' "Gangster Squad," which opened at #3 with $17M (at 3,103 theaters). Fresh from his Golden Globe win for Best Original Screenplay, Quentin Tarantino's "Django Unchained" was the #4 film this weekend, adding $11M (at 3,012 theaters) to its now $125.3M domestic total while "Les Misérables," another big winner last night, slipped to #5, with $9.6M (at 2,927 theaters) and a domestic gross of $118.7M.

Moving to the bottom half of the Top Ten for the first time in its five-week run, "The Hobbit: An Unexpected Journey," made $9.1M (at 3,012 theaters) for a domestic total of $278.2M. Slipping to #7, "Lincoln" added $6.3M to its now $152.6M domestic gross and won one of many awards for Daniel Day-Lewis. At #8, "Parental Guidance" continued its descent, earning $6M in its third week (at 2,957 theaters) while last week's top movie, "Texas Chainsaw 3D" experienced the biggest freefall of the week. The #9 film made only $5.2M (at 2,659 theaters). Jennifer Lawrence took home a Golden Globe last night for the quirky "Silver Linings Playbook," which moved up the chart this weekend to #10, earning $5M (at only 810 theaters).
Will the surprise Golden Globe win for "Argo" spell a bump at the box office in next weekend's stats? And what impact will the Oscar nominations have on upcoming ticket sales? As for new releases, we'll see Mark Wahlberg, Catherin Zeta-Jones, and Russell Crowe cavorting next weekend in the political thriller "Broken City" as well as former Governor Arnold Schwarzenegger cavorting with nasty drug lords in his "comeback" vehicle, "The Last Stand." Wake me when January is over.