Oscars 2013: The 'Django Unchained' shocks keep coming, Tarantino wins Best Original Screenplay
Is filmmaker's second win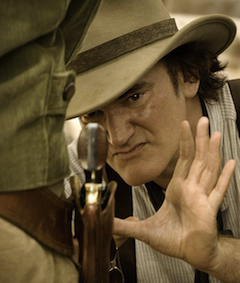 In yet another Oscar surprise care of "Django Unchained," Quentin Tarantino picked up the Best Original Screenplay for his film at Sunday night's Academy Awards ceremony. In a year stacked with talent, including "Zero Dark Thirty," "Moonrise Kingdom," and "Amour," Tarantino's spin on the spaghetti Western seemed like a long shot, but the filmmaker managed to win his second Oscar in the category (he previously won for "Pulp Fiction," alongside Roger Avary, in 1994).
Bing: The Academy Awards | 'Django Unchained'
In his acceptance speech, Tarantino announced that 2013 is "the writers' year," a declaration that's hard to deny given the depth of talent nominated at this year's ceremony.
Tarantino has been nominated for three other Oscars, and though he was not nominated for Best Director this year, he could still take the stage again if "Django" should win Best Picture.
For all your Academy Awards needs, head on over to MSN Movies' full Oscar coverage.

What should overshadow Tarentino's use of racial slurs is the probability that  Tarentino's doing an alt-history trilogy. The main theme of it being that with the blood and gore in the right place, an otherwise noble agenda would have been carried through faster. Between "Inglorious Basterds" and this one, that's what it looks like. Where and when is Tarentino going next?
Are you sure you want to delete this comment?