'Man of Steel' trailer looks good
What else can we say? We liked it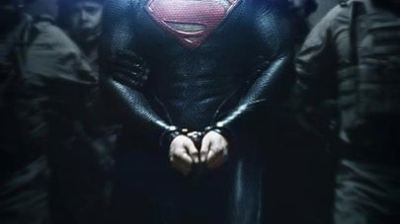 It's been a banner year for comic book movies. "The Avengers" was pretty good, and broke nearly every non-James Cameron related box office record in existence, everywhere. Then there was "The Dark Knight Rises," which put an appropriately triumphant capstone on Christopher Nolan's monumentally successful "Batman" trilogy. Next year is shaping up to be pretty decent, too, with Marvel pics "Iron Man 3," "Thor: The Dark World," and "The Wolverine" pitted against the daddy of all superheroes, Superman, in "Man of Steel."
Anticipation for "Man of Steel" has been rising ever since its first teaser trailer gave us dueling portentous Kevin Costner and Russell Crowe voice-overs, surprisingly beautiful Terence Malick-ian shots of faded Americana, and the promise of a supersonic Supes potentially punching Evil in the face. The film's first full-length trailer was said to be debuting before "The Hobbit" this Friday, giving us all another compelling reason to pony up for and sit through Peter Jackson's nearly three-hour long epic. Well, perhaps we can save you some money, and the inevitable strain on your bladder. The trailer has debuted online, and can be glimpsed after the break.
In it? Kevin Costner and Russell Crowe in the flesh, sometimes delivering actual dialog! Even more surprisingly beautiful, exquisitely composed Terence Malick-ian scenery porn! Some old-school, "Gladiator"-style operatic bombast, courtesy of composer Hanz Zimmer! And of course, a supersonic Supes punching Evil in the face. (Finally!) Is the world ready for Superman? We'd answer that with an unequivocal "yes," assuming we can all survive the impending Mayan apocalypse, that is.
What do you think, Hitlisters? Check out the trailer for yourselves, and let us know in the comments...
Are you sure you want to delete this comment?