Movie Marketing You May Have Missed: A New Trailer for 'Easy Money'
Formerly known as 'Snabba Cash'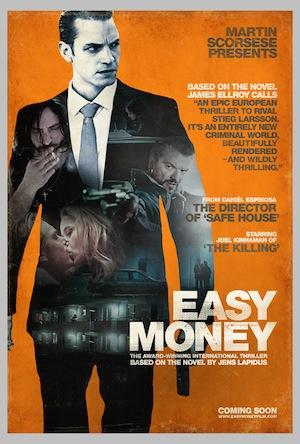 Way
back in February,
I introduced you dear Hitlisters to the Joel Kinnaman-starring "Snabba Cash" movies. With Kinnaman set to star in the upcoming "Robocop" remake, and with the first "Snabba Cash" finally hitting the U.S. this summer, it seemed like the perfect time to look back at the crime flicks that brought the talented young actor into Hollywood's fickle consciousness. Since then, a few things have happened - first up, dear old "Snabba Cash" is now going by "Easy Money," Martin Scorsese stepped in as an official "presenter" of the film, and its release date shifted up to July 11.
Oh, yeah, and I saw "Easy Money" at the Los Angeles Film Festival and can now report that the Swedish crime flick about three different men and their lives as they intersect, thanks to drugs (it's always drugs), is the real deal - and so is Kinnaman. It's stylish, whip-smart, breath-snatching, and just flat-out phenomenal. Fans of twisted crime thrillers that rely on complex and interesting characters working in narratively accomplished plots are going to flip out over this one. And for anyone unsold on Kinnaman's abilities - well, "Easy Money" should answer a lot of lingering questions. The kid has chops, and his work in the film show how easily he can slip between very different characters in service to story. 
In support of the film's upcoming U.S. release, the Weinstein Company has now released a new trailer for "Easy Money," and it's a real looker - and it should get you pumped for this new crime classic. Check it out over at
Apple
.