Cannes Interview: Kristen Stewart of 'On the Road'
'All I wanted was to lose control, and I did.'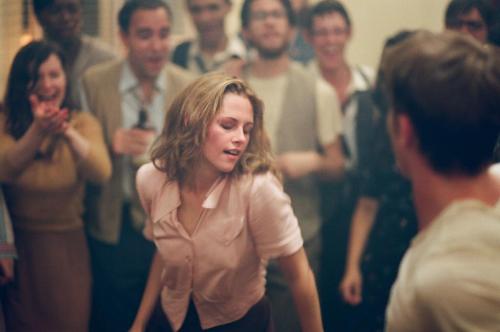 Shoeless in an orange jacket, vibrating with energy, Kristen Stewart meets the press in Cannes for her new film "On the Road" with smiles and enthusiam. Directed by Walter Salles, the film's an adaptation of the renowned novel by Jack Kerouac, a barely-fictionalized​ account of his travels with Neil Cassady;  Stewart's character is a fictionalized version of Casssady's wife LuAnn, a muse and paramour with her own role to play in the journeys -- physical and emotional -- the book chronicles. We spoke with Stewart as part of a roundtable of journalists.
Did you feel a little blessed, being able to do things as liberated as this part allowed you to do ?
Stewart: No. I couldn't be farther from that. Not that I don't feel at liberty with myself, it's just that everything she does is generous, everything she does is so outward. I tend to laugh at myself. I'm much more like Sal, and I sit and watch people. When I read the book for the first time, I was like 'I need to meet people that I can run after.' It represents a stage of life that you do get to start to choose your friends and you get to choose who your family is. Because of the way I feel about it, all I wanted was to lose control, and I did. It was difficult, only beforehand. I mean the lead up in my mind, I didn't know if I had it in me. I don't think you can change who you are. I think you get lucky when you find parts that you identify with. She moved me so much. I knew that there had to be these qualities buried very deep inside, but it was hard to find them, but once they were there we had weeks of full-blown really intensive prep. By the end of it, it was so easy to trust that it was going to find its way into your body, and it didn't have to be in your mind anymore. It was so cerebral at first, and then I trusted myself implicitly. It's because of Walter. He puts you in a world that is so undeniable, it's breathing. It's forward motion. I mean, I never looked back. There's no room for modesty in the movie, obviously; it would be so wrong. A truer version of this book is one that is learned, forgotten and then rediscovered. You don't want a recital of "On the Road" ...

More on Bing: Latest Buzz on 'On the Road'
Is she doing all of this just to help the men in her life, like Sal and Dean?
Yeah, definitely, but she is getting just as much in return. She is a bottomless pit. You can't waste her. When I read the novel Marylou is fun, she's sexy; she's very, for her time, very progressive, because of how bold she was. As a girl, just like as a probably more sensitive girl, I couldn't understand why you would let people take from you so much if it's not what you wanted. It's not a book about her, so some of those things aren't explained. What I love about our version is there's the novel, there's this girl, and then there's what happened in reality, and there are the people behind the characters. You're only going to do "On the Road" once and it's so important to respect history. All three matter so much, and I think this is a version of all of that. In knowing who the person was behind the character, it just made more sense. She would be so unique and special now. It's not just because she was doing things that boys did, and because she was young, that she was special. She would be outstanding today.
Are you impressed by your own courage, in a way, when you watch the movie?
Yeah. I mean at the same time though, there was never a point where I got over the inhibition of fear, but from an outsider's perspective -- which is hard to have when you're so inside of something -- it's f**king crazy I did that.
In "Shakespeare's Sister," Virginia Woolf writes about how if Shakespeare had a sister, she would not have had the same opportunities that Shakespeare did, because of social circumstance and lacking a room of her own. There are all these women caught up in the "Beat Generation" who served as muses, who never got to be creators. Do you think they were aware of that difference? Do you think they felt that?
There are a few women beat writers that really did a lot. I think if they wanted to make something, then they would've. It's not something that you decide to do. Making art is something that you have to do. Its interesting, everybody sort of capitalized on the fact that it became a movement and not just their lives anymore, and everyone wanted to tell their version of the story, and it was all really different. Thank God they did. We know (LuAnne's) version only through these tapes that she never really thought would do anything besides (provide) a few quotes for a few biographers. She's the only one that didn't sell her story. She so completely represents the essence of what "On the Road" is. It was so close to her; it was her life. She wasn't rebelling against anything. She was being herself. Getting back to your question, I think I don't know. I wonder if there were women that were making things in that circle. If they were being ignored, you wouldn't know now, but I don't know. I hope not. I'm not sure.
What did you know about the Beat generation before all of this started?
I was a huge fan of "On the Road." I read it when I was fourteen. I'd read some Burroughs; I tried to read "Naked Lunch." It didn't get inside me as much as "On the Road" did. I read like, Ginsberg stuff. Not much. It opened a lot of doors to different writers. Henry Miller is not a part of the Beats, but he's like one of my favorite writers, and I only know about him through these people. I did a book report when I was fourteen on the book, and I got in a lot of trouble because it was really late. It took me so long. I knew what you could find on the Internet about the Beat movement. I knew really basic information.
You were cast so long ago for the role. I'm curious, in the time that it took for production to finally happen if your outlook on the role changed or if just the years in between helped you with that role?
Oh yeah. Thank God it happened to go when it did. I was much a younger sixteen year old then Lou Anne, so I could not have done it the way I did at twenty. I would've been able to understand it, but I wouldn't have been able to do it. I was really worried, too. I could've gotten too old as well. The stars aligned. We got so lucky.
More on Bing: Watch the Trailer for 'On the Road'
On a less serious note, the car you drive, the '49 Hudson, is almost like another character in the film. By the end of the filming was being in the Hudson more like a comforting womb, or more like a jail cell?
Definitely a womb.
Just this big, old school American car where you can sit back?
It's so comfortable in there. Road trips now are not the same, because our cars are not the same. It's like a room. I don't know.
You could move in there.
Yeah. You really can. By the end of the movie, my last scene was in the Hudson, and I can't even describe to you what it was like to get out of it, and I knew I wasn't allowed back in. It was horrible. My last scene that I actually shot is one very quick shot. It's in a rearview mirror, and its right before we get dumped in San Francisco. It's perfect that it was my last scene as well, because its like you know it's coming. It was so perfect. There's this awesome picture that I will cherish for the rest of my life, of me Walter and Sam standing in the middle of the road. It's right after they called wrap, and I've definitely just wiped a full face of tears off, and I've put my vans on, but I'm still in full period garb. It so captures that moment, because now I'm on my own road. It's so totally lame and cheesy, but it was cool.
I'm curious if over the years if you've developed any sort of guided philosophy of how to balance your time between the tent poles and smaller indies like this?
Yeah, I don't what I want to do until it's in front of me. I don't like genre movies. Even though you can kind of say afterwards if something is funny or sad, so it's kind of like a comedy or a drama, I don't think life is like that. Things are not that black and white. I can't plan my career, because I think its such a crazy thing to do, act in movies. I need to see it in front of me, and go, "Yes." I have the desire to challenge myself. It's a very addictive process, this energy, this creative energy that you get to share with people. I want that. That's what I'm after, like really hungry for it, but I don't know how that's going to present itself. I haven't' figured out what stories I want to tell yet personally. Right now I think it's a really good time for me to be an actor. I'm full of something. Really I feel like I'm bursting.
("On the Road" opens later this fall.)