Movie Marketing You May Have Missed: Trailer for 'Take This Waltz'
Seth Rogen and Michelle Williams go serious with marriage drama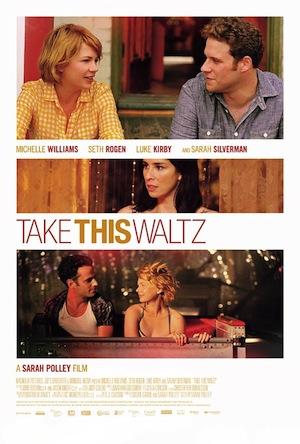 A meet cute on an airplane. A familiar stranger. A giggly cab ride. A well-matched pair. But despite all the those seemingly familiar beats in this new trailer for Sarah Polley's "Take This Waltz," the film is not a fizzy romantic comedy about new lovers - it's actually about something much deeper (and much more universal).
Michelle Williams plays Margot, who is (happily?) married to Seth Rogen's Lou. But their relationship is thrown for a loop when Margot meets Daniel (Luke Kirby) on that aforementioned airplane and is instantly drawn to the sexy and charming man she soon finds out is her and Lou's neighbor. Woopsy. While it would be easy to vilify Margot as her relationship with Daniel deepens (and, conversely, as her bond with Lou ever-so-slowly loosens), Williams is able to infuse even just this trailer with a sweetness and an innocence that makes it surprisingly easy to feel for her and her situation, even to sympathize with her. What will happen to Margot and Daniel? What will happen to Margot and Lou? What will happen to just Margot? You'll have to catch the film to find out. 
And, hey, this trailer even features a bonus quote from our very own James Rocchi! (That's a seal of approval if there ever was one.)
"Take This Waltz" will be available on iTunes on May 25 and will have a limited theatrical release on June 29. Take a look over at the film's latest trailer over on
Apple
.