Is That Really Matthew Fox in the Upcoming 'Alex Cross?'
The former "Lost" star is unrecognizable in his role as a serial killer in the film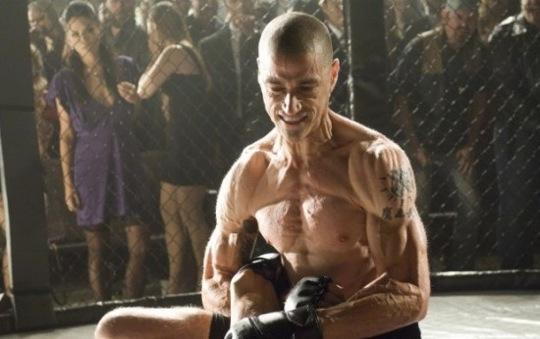 Whoa—has the Smoke Monster finally gotten to Dr. Jack Shephard? Oh wait, the final episode of "Lost" aired two years ago this week. I guess we know how Matthew Fox has been spending his time since leaving the Island! If this just-released photo from "Alex Cross" can be taken at face value, Fox has been working out with a vengeance for his role as a serial killer in the upcoming film. Based on the novel, "I, Alex Cross" by James Patterson, the new film stars Tyler Perry as Detective Cross (in a rare acting gig outside of his own films). Perry is taking the reins from Morgan Freeman who played Alex Cross in two previous Patterson adaptations ("Kiss the Girls" and "Along Came a Spider"). The new film, directed by Rob Cohen and scheduled for release this October, also stars Edward Burns, Jean Reno, Rachel Nichols, and Cicely Tyson.

Could this photo possibly be undoctored? If so, I'd pick Jack in a battle against the Others any day of the week! On the other hand, I'd also pick 74-year-old Morgan Freeman over 42-year-old Tyler Perry. Just sayin.

Morgan Freeman was the only good thing about the first two movies.  I'm not a fan at all of Tyler Perry...I've seen a few of his movies and find them unwatchable.  Surely they could have found a better actor to take over this role.  One person who comes to mind is Jamie Foxx.  He's not exactly done anything lately to prove his acting chops, but "Ray" proved he's more than capable of carrying something like this.   

Morgan Freeman is one of my favorite actors, but if you read one Alex Cross book, you would know he was too old for the part to begin with.. and with Cross only getting older..  makes it difficult.  I think they should have started with someone like Denzel Washington a bit younger.   I loved Freeman in the first two ((Kiss the Girls and Along came a Spider))..   I just hope they didnt jump too far back...  I love Tyler Perry's stuff but I think he is too young for Alex Cross..     
And I think Matthew Fox had to have help with the development of muscles..   Right now its just a "wait and see"
Are you sure you want to delete this comment?