SXSW Review: 'Leave Me Like You Found Me'
A reuniting couple go camping in an indie drama with intimate feelings and epic sights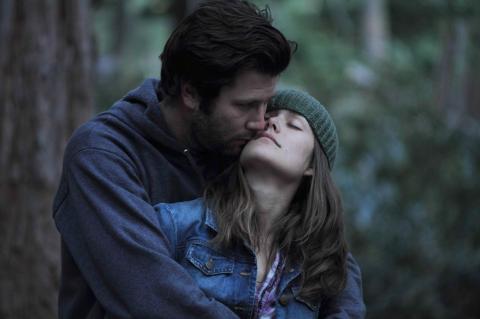 Rating: 4.5/5 stars
Many films depict the first blush of love -- the excitement, the anticipation, the blast and bloom of desire and affection. Other films choose instead to show love in its autumn -- the long-standing affections and angers, the shared language of unspoken past problems, the way familiarity can breed both content and contempt. In writer-director Adele Romanski's "Leave Me Like You Found Me," debuting here at SXSW, however, we see something far more real -- and far more rewarding -- as a couple who've spent a year apart take a camping trip at Sequoia National Park a week into their tentatively and tenderly re-started commitment. The result is a fascinating and compelling drama, one where the intimacy of the conversations is matched by the grandeur of the settings, where what looks like simple conversation is shaped by a subtle series of directorial choices and acting moments to become far more than what it looks like.
Erin (Megan Boone) and Cal (David Nordstrom) are present and tense in the present tense, but their shared past hovers all about them; at the same time, they're optimistic, affectionate, happy. When Cal kisses Erin as he undresses her, she's taken a little bit aback: "I kind of … forgot you, is all." They cook, they drink, they hike, they drive, they get lost; they talk openly and warmly about while they were apart, but they also talk with a too-brutal honesty. "How many girls did you f**k when we were broken up?" asks Erin; we wait for the explosion, but it never comes. You always hurt the one you love, as the saying goes; in this case, as in many cases, it's primarily because loving someone teaches you how, and where, to strike when you become their foe.  And so, the fights come in other places -- in one example over a wedding in August that Erin wants them to RSVP to even though, as Cal notes, it's only May. They fight in the car, pull over to a viewpoint and get out … and the camera, for a while, stays in the car with their anger.  
It's that mix -- of fresh air and stale resentments, of nature's wonder and human folly -- that pervades the film, and director Romanski's choices are top-notch. We only hear two people other than Erin and Cal speak, and that briefly; the model isn't "Before Sunrise" or "Before Sunset" but rather the long, straining series of days and nights between. It's also worth noting that Romanski raised the money for the film entirely through the crowdfunding program Kickstarter; Romanski and her cast and crew also camped in Sequoia National Park during the shoot, a $20-a-night campsite for the 14-day shoot … and spends less than $300 dollars for more production value than Disney could gin up with $300 Million for "John Carter." (This is, to be sure, an apples-to-oranges comparison, but at the same time, it should also serve as inspiration to other filmmakers working on a limited budget -- your brain will help you find better soloutions than your wallet can, almost always.)
As for Boone and  Nordstrom, they're extraordinary, letting us see the way Erin and Cal connect and clash -- not merely on a 'Mars-and-Venus,' man-and-woman level, but in terms of personality and character. At the end of the film, we have no idea if Cal and Erin are headed for true understanding or total disaster; to the film's credit, neither do they. Inspired by the traditional piece of campsite etiquette and reason, 'Leave Me Like You Found Me" is one of the strongest debuts at SXSW -- a great demonstration of not only what the indie cinema can do, but, even better, how the true indie cinema can be done. 
("Leave Me Like You Found Me" is seeking distribution at SXSW.)