Videodrone Streams and Channels: Watch 'The White Shadow' for free online at NFPF
Alfred Hitchcock wrote, edited, and designed this recently rediscovered 1924 film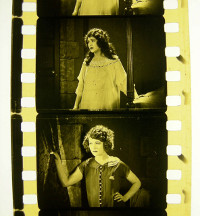 Remember earlier this year when Videodrone and the folks at The Hitlist participated in the "For the Love of Film: The Film Preservation" blogathon? It was part of a campaign to raise money for the National Film Preservation Foundation to restore, commission a score for, and screen "The White Shadow," a 1924 film discovered last year in a New Zealand film archive, on the web.

That project has come to fruition.
The National Film Preservation Foundation premieres "The White Shadow" (or rather, the existing reels of the film) online on Thursday, November 15, for free.
The film remains incomplete -- only the first three of the film's six reels were discovered in the archive -- but is a major historical discovery nonetheless because of the creative involvement of Alfred Hitchcock. Graham Cutts directs "The White Shadow" but the young, ambitious Hitchcock arguably shaped the film more as screenwriter, production designer, editor, and assistant director.
The 43-minute film will be streamed on the website for free for two months, beginning today, with an original score by Michael M. Mortilla and accompanied by a wealth of companion materials, including program notes by film critic and historian David Sterritt.
Click through here to go to the NFPF website and screen the film.
More on the film and the project at Videodrone.
For more releases, see Hot Tips and Top Picks: DVDs, Blu-rays and streaming video for the week of November 13