Videodrone Classic: The Western Women of 'Johnny Guitar'
One of the great cult westerns debuts on DVD and Blu-ray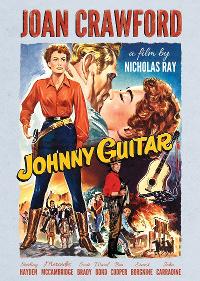 In "Johnny Guitar" (Olive), Joan Crawford's Vienna is the most masculine of women western heroes. A former saloon girl who earned her way to owning her own gambling house, she's a mature woman with a history and she's not ashamed of what she did to carve out her claim for a future.
Directed by Nicholas Ray and starring Joan Crawford and Mercedes McCambridge as frontier entrepreneurs in a war of wills, the 1954 "Johnny Guitar" is one of the most unusual westerns of its era, or any era for that matter. It's dense with psychological thickets and political reverberations (including a not-so-veiled allegory for the McCarthy witch-hunts in Hollywood), designed with color both expressive and explosive, and directed with the grace of a symphony and the drama of an opera.
Sterling Haydn plays the title character, a lanky, affable cowboy who wanders into Vienna's saloon in the opening minutes and serving as witness to the dramas bubbling up in this frontier community in the hills, but his acts of heroism aside, he's the equivalent of the stalwart girlfriend watching the showdown between Vienna and the Emma Small (Mercedes McCambridge). She's the town banker and moral arbiter whose power is threatened by Vienna (her saloon is built on the site of the railway line) and whose shameful desire for a bad boy miner is inflamed into vengeance against Crawford, the object of his desire.
The film's dynamic first act occurs almost entirely within the confines of the gaming room of her saloon, with characters arriving, engaging, and exiting in dramatically timely fashion, but the effect is anything but stagebound or theatrical. Ray directs the rise and fall of the drama and the interplay and evolution of stories like a symphony, a sustained piece with themes and movements that builds to the climactic kiss between Vienna and Johnny and one of the greatest lyrics ever spoken in a western: "Lie to me. Tell me you love me."
Continue reading at Videodrone
For more releases, see Hot Tips and Top Picks: DVDs, Blu-rays and streaming video for week of August 7