Interview: Kate Beckinsale of 'Total Recall'
"My husband, the director, mentioned he had been thinking of me for the part...of the 'Psycho Wife.'"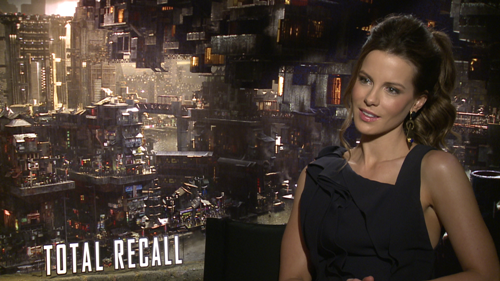 With her clipped diction and imperious, delicate air, it's startling to note how totally Kate Beckinsale's transformation -- from period-piece actress to action heroine -- has encompassed her career and life. In "Total Recall" -- directed by her husband, Len Wiseman -- Beckinsale plays Lori Quaid, the wife of Colin Farrell's Doug Quaid ... which is, of course, a false-memory lie. As Beckinsale goes from home-body to home-wrecker -- literally, in one of the film's more lively fight scenes -- she's the film's secret MVP. We spoke with Beckinsale in L.A. about the original "Total Recall," punching nad playacting, and how nepotism was not, in fact, involved in her getting the gig ...

MSN Movies:  When you're playing a part like this -- someone in a film who's also playing a part in that film and acting, being undercover -- is that fun?
Kate Beckinsale: It's really fun.

Yeah?
Yeah, it's really fun. I love that whole kind of there's a kind of double character to play in this movie, and she's very good at her job, so she has to be convincing, and I think she rather resents having to do that job. It seems beneath her and she's very highly trained so by the time she gets to reveal who she really is, she's (whispered) pissed.
She's mad.
Yeah, she's... (again, sotto voce)  pissed.
Let's talk about that because the fight scenes you shoot with Mr. Farrel and Miss Biel -- you look pretty mean in those. You look like you're not holding a lot of stuff back. Is that like, "I've done the 'Underworld' films. I can take you down"?
(Laughs). No, not really. My character definitely feels like that though, so she's relentless. She's very mad and wants to get even.
Now you're married to director Len Wiseman…
Yes.
When he starts saying around the breakfast table, "I want to do 'Total Recall'" did you say to him, "I've got to be in this"? Or do you say to him, "That's lovely, dear," and wait 'til he mentions it?
Yeah, I think so.  It's not something where I'd be like, "Where's my part?", you know?

Right.
I wouldn't do that. And actually I wasn't available for this movie originally, so he was like, "Oh, when I was writing the movie I was totally imagining you playing this part," and I was like, "Psychotic bitch wife? Thanks a bunch." And I didn't really think much more of it because I knew I couldn't do it because I was doing "Underworld 4" at the time, and the dates didn't work out. So I was around and he was sort of auditioning people and being part of (my)  going, "Oh, she's interesting," and "That's cool," and then all of a sudden their movie got pushed a little bit and I actually got a call from the studio offering me the part -- not my husband. He didn't give me any kind of heads-up at all so that was quite shocking and I thought it was a joke at first.  I had been aware that he was prepping the movie, but I was doing a couple of other movies back to back and wasn't really involved until 12 days before when I was asked to do it and I thought, "Christ, that's a lot of action there."
That's also a great Cosmo note: If you want to liven up your marriage, give your partner one of the lead roles in a multi-million dollar remake.
Or it could backfire on you, and you could end up getting divorced. I mean you just don't know how it's going to go, do you?
Well, I think it worked out for you really well.
Yes, we lucked out.
Let me ask you this: The 1990 version of this film is so crazy and nuts. Do you have any memory of it? Do you have any association with seeing it?
Yeah, I remember seeing it. One of my brothers was a big sci-fi fan so I found myself watching all kinds of things, and that was definitely one of them. I definitely remembered it. And it's very current; it's on television a lot. I didn't watch it specifically before we started this movie deliberately, because I don't think it's very creative to be coming from a sort of creative perspective of -- I want to (make) something differently than somebody else -- to me (repetition) is dead, creatively. I wanted to meet my character on their own terms and then after the movie was finished it was interesting to go back and see what was similar and what was different about the choices that we made  ...
("Total Recall" is in theaters.)
Are you sure you want to delete this comment?