Terrorize Yourself With 'V/H/S' Artwork and Red Band Trailer
This horror anthology features segments from the top directors in the genre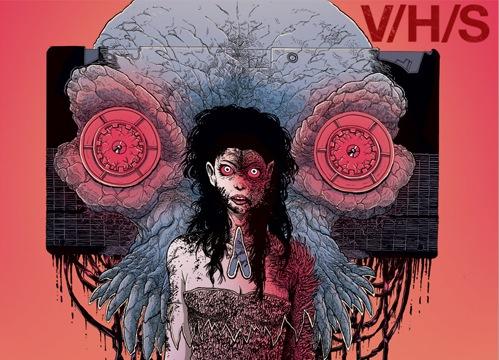 One of the most frightening movies I've seen in a long time is "V/H/S," a found-footage film that features segments by some of the top horror filmmakers in the country. Ti West ("The House of the Devil, "The Innkeepers"), Adam Wingard ("You're Next"), Glen McQuaid ("I Sell the Dead"), David Bruckner ("The Signal"), and Joe Swanberg ("Hannah Takes the Stairs") each made separate short films that are woven together in this embarrassment of gruesome riches. Canadian comic book artist James Stokoe created the above appropriately dark image that was inspired by the film. 

I recently spoke to director Ti West about his involvement in the anthology. That interview will be up soon but in the meantime enjoy the new red band trailer for the creepy film (after the break).
Just don't watch it alone!
"V/H/S" is currently available on demand and will be in theaters starting October 5th.