Interview: The RZA and Eli Roth, Director and Co-Writers of 'The Man with the Iron Fists'
On how you make a crazed kung-fu combo platter of beats and bloody vengeance ...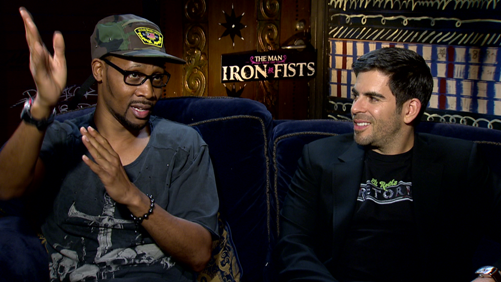 With a working name of -- and hard-working history as -- The RZA, born Robert Diggs, makes his directorial debut with "The Man With the Iron Fists," a crazy-fun kung-fu mashup of old-school martial-arts action epics with a bass-booming modern energy. Co-writer -- and co-conspirator -- Eli Roth is still the smilin' giddy good-time guy he's been since "Cabin Fever," his directorial debut, all the way up to "Inglourious Basterds," where he gets one classic scene about America's pastime in a time of war. We spoke with both in Los Angeles about their love of kung-fu, working together, and why to get Russell Crowe, you have to show him his weapon. 
MSN Movies: (RZA), you directed, you both wrote together -- what's your writing process like? Were you in the same room? Was it all very quiet or was it jumping up and acting out fights and getting psyched?
RZA: (Laughs) All the above, and as far as, I don't know if in terms of  talking but we wrote (via) Skype, iChat, telephone, to him coming to my house up to the guest house 'cause I have all these damn steps, to me going to his house where he has all these damn steps. (Laughs)
Eli Roth: Yeah, it's like in "Kill Bill," when they went up to Pai Mei's, but it was a great experience. But the thing is it was a very fluid collaboration, and we kind of, you know, we took our time writing it. We didn't say "We're on a deadline." We knew we were going to get it done, but we said, "Alright, if we need to watch more movies we should watch this movie." In each movie that one of us sees that we think would inspire us, we're like, "Ah, we got to see this. This is…"
RZA: Yup.
BING: 'Black Samurai' l 'The Wu-Tang Clan'
Roth: "This is the scene. This set should look like this." So we spent a lot of time digesting it so that it was really, really thought through because we wanted to create a whole universe.

And it's very amusing you talk about watching films because in the notes it says that one of the first kung-fu films you saw was "Black Samurai" with the great Jim Kelly.
RZA: Yeah, Jim Kelly.
And going back to second run movie houses in New York and Wu-Tang, certainly very influenced by sounds of martial arts filmmaking, how do those two worlds come together? What's the correlation between African-American culture and the culture of martial arts films? Is it just sheer enjoyment transcending all boundaries?
RZA: No, that's a question that was asked before, and I don't have the answer to that question, you know what I mean? But I know that there's some kind of synergy there that you can't put your finger on. Like peanut butter and jelly, why do they make such a great sandwich? You know what I mean? It's just good, baby.
(Laughs) Now I really want that sandwich.
Roth: It's also similar themes. I mean, there are themes of brotherhood, and themes of revenge, and someone coming to your town and killing everybody in your family. I mean there's stuff that people really identify with when they see those movies.
RZA: Yeah, we usually think about, take a movie like "36 Chambers" which is one of the ones that really inspired me and falls inside my heart and my mind, not just my heart. That was a movie about oppression, you know, revolution, as well as transformation, brotherhood, and loyalty. Those type of things I definitely could relate to as being black and American and going through it as a teenager and poverty, you know what I mean? But I still don't, you know, those things resonate with me, and I was lucky I was able to translate it through the Wu-Tang Clan. And I think I just like to kick ass.
Roth: Yeah, everybody wants to feel like if there's some secret language you could learn that you'd be unbeatable.
If you just trained enough, you could be, as the soundtrack song you did with The Black Keys says, "the baddest man alive."
RZA: Right.
I've given up on that dream. When you book Russell Crowe to show up in a supporting part as this insane British man with a ... knife- gun, is the only I can describe it ... how hard were you high-fiving each other like, "We got it. We got him to show up, have fun, and be amazing"?
RZA: (Laughs). I don't know. Here's the thing though…
Roth: It was amazing. I mean, look, when we wrote that character it was obviously the dream was to have Russell play it, but we said we got to give him a reason to come to China. He's not just going to show up and do this, and you know when we got there, we saw how game Russell was and we said let's do something like Marlon Brando in "The Missouri Breaks," Ben Kingsley "Sexy Beast." Let's give a performance that's so wild. But I remember you looking at me on set one day with the scene with the brothel and you were just, I mean, you looked at me like, "I can't believe we got Russell Crowe."
RZA: Yeah, doing crazy stuff. But one thing I've got to say that, and it wasn't an easy sell, of course. He's a professional; he's one of the best actors in the world. You can't find a hundred men on earth who hold the (Oscar) title as "Best Leading Male." He has it twice. So to have him ... but one thing I did do when things was looking a little kind of we didn't know, we didn't know. And the knife was developed. I actually didn't leave China -- I left China one time out of 150 days, and that was to fly to New York to the premiere of "The Next Three Days," and to show (Crowe) this weapon. Okay, and when he'd seen that weapon he was like, "Pretty cool, Bobby." (Laughs)
And I'll bet the TSA loved you ...
For more on "The Man With the Iron Fists," check out our video interview with the cast: 
("The Man with the Iron Fists" opens Friday; for more on movies, check the MSN Movies Facebook page and the MSN Movies Twitter feed.)