Interview: The men who transformed Anthony Hopkins into 'Hitchcock'
Special effects makeup artist Howard Berger and head hairstylist Martin Samuel went for the essence of the real-life characters rather than exact likenesses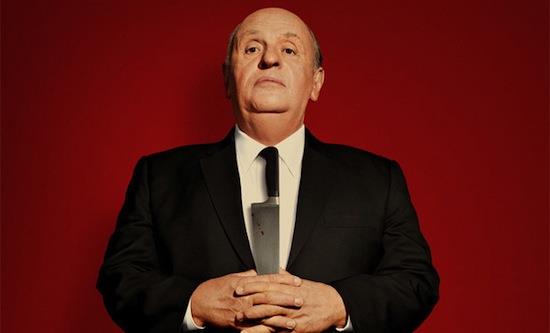 Being a huge fan of director Alfred Hitchcock, I was a little nervous as I walked into Sacha Gervasi's new film (based on Stephen Rebello's book about the making of "Psycho"). No matter how great an actor Anthony Hopkins is, would I be able to accept him as the famous "Master of Suspense?" How about Helen Mirren as Alma Reville, Hitchcock's wife, or the other real people depicted in the film, including Scarlett Johansson as  Janet Leigh, Jessica Biel as Vera Miles, and James D'Arcy as Anthony Perkins? I needn't have worried. Within the first ten minutes of watching "Hitchcock," I had completely bought into the world Gervasi's film created, thanks in no small part to the talented people who transformed these contemporary actors into their period counterparts. Yesterday, Oscar-winning makeup effects artist Howard Berger ("The Chronicles of Narnia: The Lion, the Witch, and the Wardrobe") and Oscar-nominated head hairstylist Martin Samuel ("Pirates of the Caribbean") made the short list for the upcoming Academy Award competition in the field of Makeup and Hairstyling against such films as "Lincoln," "Les Misérables," and "The Hobbit: An Unexpected Journey." I recently sat down with Berger and Samuel to talk about their work on this wildly entertaining film.

MSN Movies: I was stunned by how much I accepted Anthony Hopkins as Alfred Hitchcock even though he didn't look like the spitting image of the director.
Howard Berger: We didn't want to approach it as if we were going for an exact likeness. We thought of it more as an interpretation. We looked at both Tony and Alfred Hitchcock and we found the things that we felt best suited Tony for his performance. Our main goal was to give Tony tools to work with to help him find the character and bring it to life.
Was there a lot of trial-and-error in coming up with the right look?
Howard: Yes, that was one of the first things we said to Sacha and the producers—that we needed to make tests, that was very important. It's not like the first horse out of the gate was going to be the winner. That almost never happens.
Martin Samuel: We did the tests in February of this year and then started shooting in April.
Howard: I think we ended up doing six different tests with Tony—which included different hair, different makeup, different suits. We worked very closely with Julie Weiss, the costume designer.

Did you do tests where you tried to make Hopkins look physically more like Hitchcock?
Howard: We did, actually. In the very first test he  looked a lot more like Hitchcock but it wasn't appropriate for him. We looked at the dailies and realized we didn't want to do a total likeness because then we're disguising Tony, we lose Tony. 
I thought Scarlett Johansson and Jessical Biel looked so great in those 1950s hairstyles. Did you do all those, Martin?
Martin: Oh yes, I did Tony's hair but I also ran the show for all the other characters, including Scarlett and Jessica. Jessica Biel was a wonderful challenge because she's such a contemporary girl and she's never done anything in that period before. When she saw herself like that she was absolutely thrilled.  
And again, I thought Scarlett Johansson perfectly captured the essence of Janet Leigh even though she doesn't really look like her.
Martin: Just like Howard was saying with Tony, we weren't trying to do caricatures of the person, we weren't trying to be "hair perfect." I wanted the hairstyles to suit the actresses while still creating the illusion that they were the people they were playing.
I assume one thing you had to really get right was Alfred Hitchcock's famous girth.
Howard: That mostly fell on Julie Weiss but we all had to work together. The first test was using a body suit that Julie designed that was Hitchcock's actual size but it didn't work at all—it just seemed gigantic. It hindered Tony's performance so we had to adjust it.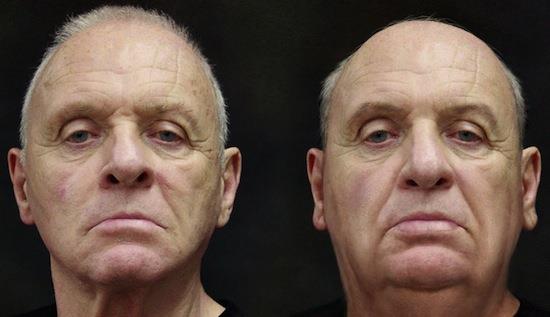 The prosthetics on his face and body looked incredibly real.

Martin: I remember Helen Mirren was transfixed. She said she didn't feel like she was acting with Tony Hopkins, she felt she was doing scenes with Alfred Hitchcock!
I imagine that working with actors of that caliber must make your jobs all the more satisfying. Watching Hopkins reminded me of Meryl Streep in her Margaret Thatcher makeup—combining her skill as an actress with the exterior trappings to convey the spirit of Margaret Thatcher.
Howard: Absolutely, and it's funny that you mention "The Iron Lady," which, by the way, won the Oscar this year for Makeup Design. I thought the work in that film was flawless and that was my bar—ours had to look as good or better as Streep's. That's what I was aiming for!
I assume all those prosthetic pieces of Hopkins' face had to be discarded at the end of each day?
Yes, and as soon as they'd say, "Okay, Tony is wrapped for today," he'd tear them off with great flourish! He'd just reach up and pull pieces off and then give them to crew members as souvenirs. People on the crew got pieces of his face every night! I think it all stemmed from a story I told him from another film I was working on. They'd say they were finished for the day but then they'd change their mind and say, "Hold it, we need a few more shots!" Finally, the actor on that film just started ripping his face off as soon as they yelled "Cut" so they had to stop! Tony liked that story.
Did it take many hours each morning to turn him back into Hitchcock?
Howard: We actually did it very quickly—it took us about an hour and a half each day for Martin and I to do our job. Peter Montagna was my key artist, we applied the makeup together, and we were very fast. Unlike many bigger budget films, we had no money for digital augmentation so everything had to be perfect. We used a very soft silicone that was pre-painted and we did all the final touch-ups when it was glued down. It was all very seamless, it just melted into his face.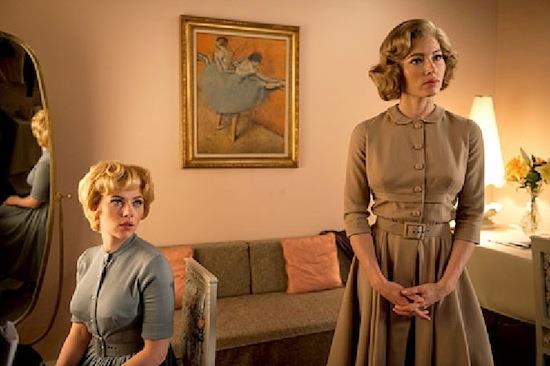 Did the women always wear wigs or did you also use their real hair?
Martin: It was mostly wigs, but Jessica had two looks. She wore a wig when we were recreating scenes from "Psycho," but when she was just being Vera Miles off-set and her hair was up, that was her actual hair.
People are less familiar with what Hitchcock's wife Alma Reville looked like. Did you try to match her real look?
Martin: Yes, during this period of her life she always had the short red hair that Helen wears in the film.
Howard: Of course the real Alma was tiny compared to Helen Mirren. But I think people would rather see Helen Mirren in the role more than Linda Hunt!
In many ways it sounds like you made this movie the way films were made back in Hitchcock's day.
Howard: Exactly—it was very old school—one big collaboration. There are all these big films nowadays where there are these strong delineations between departments but I don't think that ever works as well. Sacha was the ringleader but we all worked together all the time, especially me, Martin, and Julie. Everyone had a say, including Sacha and the producers. I remember Ivan Reitman, in particular, was very vocal—he's a vocal kind of guy! But I appreciated everything he said, I took all of his ideas to heart.
Did you have people on the set who were around back then?

Howard: Yes, we had one of Hitchcock's First A.D.s and also his continuity person. One of the Hitchcock grandchildren also spent some time with us.
How about Jamie Lee Curtis? Did she get a chance to look at her mama?
Martin: She was at one of our first screenings and I remember was sitting two rows in front of me. I was so nervous, thinking, "Oh my God, it's Jamie Lee Curtis, what's she going to think? Will she love it or hate it? It's her mother!" Happily, she thought it was great, she loved Scarlett as her mom!  
Howard: The  whole experience of making this film was amazing. Films like this are few and far between, believe me! Martin and I have done many movies in all different sizes and shapes and genres, but this one has been really special. It was just so much fun. You can do a $250 million movie and then hop onto this tiny $13 million labor of love and have a much better time! We never felt stress or negative energy, it was always a very positive environment.
"Hitchcock" is currently in theaters. 
Are you sure you want to delete this comment?