Please don't tell us you're surprised that Seth MacFarlane's 'Ted' will appear at the Oscars
And Mark Wahlberg, too!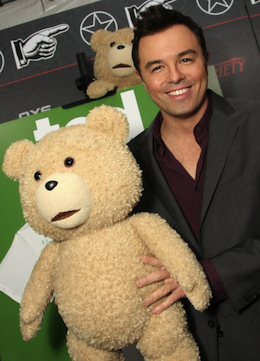 When it was first announced back in October that Seth MacFarlane, the multi-hyphenate talent behind "Family Guy," "American Dad," and runaway feature hit "Ted," would host this year's Oscars ceremony, it seemed like only a matter of time before it was also announced that one of his creations would be hitting the stage alongside him. And, given that a furry puppet will be easier to wrangle than an animated baby, 
Deadline Hollywood
 passes on the news that MacFarlane's Ted will present an award on the show, along with his "Ted" co-star and Thunder Buddy for Life, Mark Wahlberg.
Oscar telecast producers Craig Zadan and Neil Meron announced the news earlier this week, sharing, "We are happy to make it possible for Mark and Ted to make their debut appearance on the Oscar stage. And we won't deny that Ted used his pull with our host to get himself the booking." Ever-sassy, Ted himself said of the news, "I'm excited to present an Oscar with Mark Wahlberg. I'm spending the next month learning to pronounce 'Quvenzhané.'"
"Ted" is the highest-grossing R-rated original comedy of all time. MacFarlane is the show host. We're only surprised it took this long to announce.
Other already-scheduled Oscar performers include Adele, Norah Jones, and Barbra Streisand, with more to be announced as the show approaches.
The 85th Academy Awards presentation will be held on February 24, 2013. 
Want more Movies? Be sure to like MSN Movies 
Facebook
 and follow MSN Movies 
Twitter
.