'Chronicle' Director Hired for 'Fantastic Four' Reboot
Yep, déjà vu all over again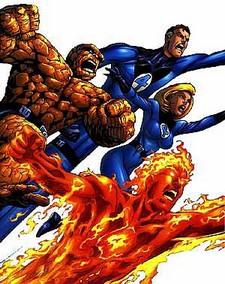 As rumored ever since "Chronicle's" success at the box office last February, but only confirmed in the mighty shadow of Comic-Con this week, director Josh Trank will be taking on Fox's reboot of the "Fantastic Four" franchise.
THR
 also reports that the project has found a writer in newcomer Jeremy Slater, who already has two spec scripts in development at Lionsgate and Universal, respectively.
2005 and 2007's "Fantastic Four" films, while certainly financial successes, weren't resoundingly received by critics or fans, and while I suspect that hardcore fidelity to the spirit of the comics is only a fraction of Fox's priorities (retaining the rights to Marvel's property being #1), admitted geeks like Trank and Slater can't be a bad place to start. Plus, the success of last week's "The Amazing Spider-Man" suggests that it's never too soon for audiences to welcome more of the same superheroes.
Thoughts, Hitlisters? Are you aching for another adventure with Mister Fantastic, the Human Torch, the Invisible Woman, and the Thing?