Is Julianne Hough Going to Star in Next Nicholas Sparks' Adaptation?
Josh Duhamel is already attached as male lead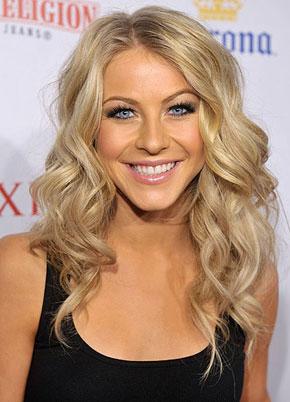 You didn't think that we were out of the woods on Nicholas Sparks' adaptations after the disappointment that was "The Lucky One," did you? After all, the rights to one of Sparks' latest books, "Safe Haven," were picked up last summer and it's only been a matter of time before Relativity Media got moving on the project. Josh Duhamel has been attached to the project since April, and now
Variety
is reporting that the studio is closing in on its leading lady. According to the outlet, Julianne Hough is in negotiations for the role of Katie Feldman in what will be the eighth (!!!) cinematic adaptation of a Sparks novel.
"Safe Haven" will be directed by Lasse Hallstrom from an adapted script by Dana Stevens and Les Bohem. Hallstrom last directed the generally well-received "Salmon Fishing in the Yemen" and is known for his dramas like "The Shipping News" and "The Cider House Rules," though he also directed "Dear John," another Sparks adaptation that, though a box office hit, was one of the worst critically received Sparks films yet. 
"Safe Haven," like so many other Sparks books, takes place in the South (this time, North Carolina! Surprise!) and centers on a mismatched couple that suffer from issues that would be best ironed out by way of something shocking - talking about them! (See "The Lucky One" for further proof of this.). The plot of "Safe Haven" involves Hough's potential role of Katie, a young woman who moves to the small town of Southport and stirs up all sorts of chatter in her wake. Katie has a secret, and her fear of that secret is what keeps her from opening her heart to anyone - though that changes thanks to two people, hot widower Alex (Duhamel's role) and her new neighbor Jo. Obviously, should this follow the Sparksian tradition, there will be lots of silly drama, some sort of big reveal, an unnecessary death, and somewhat happy ending.

The film is already slated to release on February 8 of next year.

Hough has been steadily making the jump to features by way of projects that match her professional dancer background - she's had co-starring roles in both "Burlesque" and the "Footloose" remake, and she'll next be seen in "Rock of Ages." Should she join "Safe Haven," it would be only her second film that doesn't come with a musical bent, as she has also just finished her starring role in Diablo Cody's directorial debut. That film (about a conservative woman has a crisis of faith) sounds like a much more bold choice for the burgeoning actress, as Sparks films (and their ilk) are a dime a dozen these days, but these roles show that Hough is clearly interesting in expanding her range, which is encouraging sign at such an early stage in her career.