Interview: C.J. Adams of 'The Odd Life of Timothy Green'
The young actor playing the mystery kid takes center stage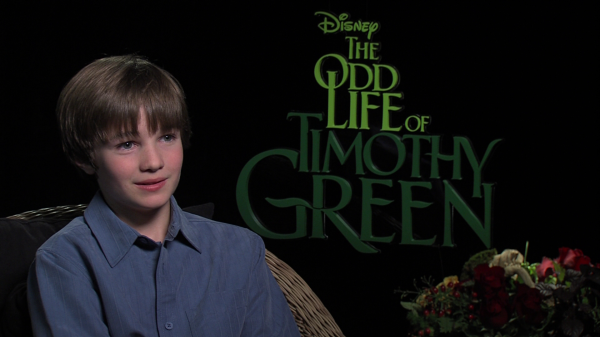 C.J. Adams, despite giving a rich and full performance as the magical mystery little kid in "The Odd Life of Timothy Green," Isn't one of those child-actorbots you see, where the poise and the lines are as perfect and die-cut as the holes in an IBM punch card. Instead, Adams is a perfectly normal kid ... who did superb work in a tough role. We spoke to Adams in L.A. about what he liked, on keeping things real-ish and the joys of SCUBA.

MSN Movies: You've worked with director Peter Hedges before a little bit on the film "Dan in Real Life," but then, years later, you get this big role. It's a title role. Were you prepared, or were you just too excited to worry?
C.J. Adams: I was so excited. There was nothing to worry about when I got the part because I was so up for it and I was ready for a challenge and I was so excited.
But the great thing about your character, you're sort of brought to life by wishes and this weird kind of magic and he has to be just that little bit off. Was it fun doing the stranger parts of Timothy as opposed to normal kid parts?
Yeah. I like the parts how I'd have the leaves on my legs kind of be like, "Hmm," always curious. I liked playing Timothy because he's such a different kind of kid.
Perfectly normal kid with a whole bunch of secrets. The cast you get to work with in this, I mean never mind Miss Garner and Mr. Edgerton, but you got to do scenes with M. Emmet Walsh; he's one of the great actors. Was it exciting? What did you learn about acting just doing this?
Well, what I learned about acting is that you become the character, like I became Timothy Green. I crafted my Timothy Green and I him. And then C.J. Adams is somewhere off playing video games with his friends or something.
Right.
And when I became Timothy Green I met all these people and I met Uncle Bub and Jim and Cindy and all those people.
So you were able to just keep things compartmentalized and in context?
Yeah.
Now, during this press day, I was overhearing somebody say that you've been taking breaks to just run down the halls to burn off energy.
(Laughs) Yeah.
A lot of moviemaking is just repetition and waiting. Would you do that during the film? You know, just run around, hurl a football around, play a little Frisbee to not go crazy?
Yeah, probably just a little something to get my blood flowing and be a little more happy, you know?
Yeah, 'cause you sit there too much the engine's idle and you can't use it, right?

Yeah.
A lot of stuff in the film, a lot of stuff you do is very fun, a lot of it's -- I'm just curious, what was the longest, most tiring day? Was it the day you shooting when you're born out of a garden and you're covered in mud and kind of underdressed for the occasion? Was that a hard day?
Yeah, that was a hard day because it was freezing cold in this garage and they had to keep the mud moist by keep spraying me and like (Shivers).
At some point you just go, "I'm a kid. You can't treat me like this. Where's a heater?"
(Laughs).
I mean, you never complained though, right, because that's the name of a job?
Yeah, I never complained.
And of course everybody was looking out for you. What day was the most fun? Was it fake playing soccer badly? Was it shooting some of the more mystical stuff? Was the best day you had?
Probably either doing the soccer scene or the pool scene ... because I love scuba diving and it was so cool to learn how to breathe under water.
("The Odd Life of Timothy Green" is in theaters Wednesday.)