Interview: Sam Rockwell of 'Seven Psychopaths'
'At the end of the day, you've got to relinquish your sort of idea of what you think the performance has to be ...'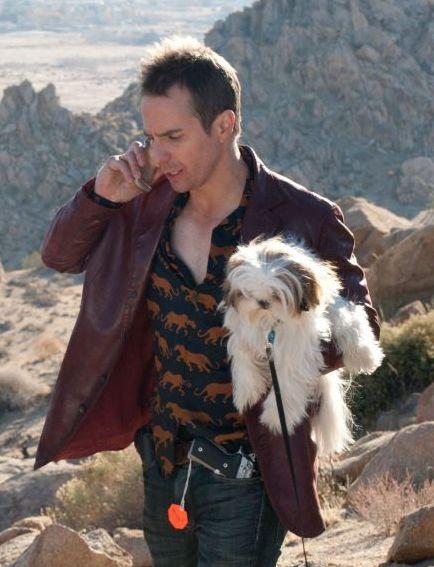 With his rubber-ish face and all-in approach to acting, Sam Rockwell's quietly become one of our best working American actors; in martin McDonagh's 'Seven Psychopaths," he plays the slackadaisical best pal to Colin Farrell's blocked screenwriter, a part-time dognapper with a few surprises up his sleeve. We spoke with Rockwell in Toronto about going from  making plays with Mr. McDonagh to working with him on-screen, his physical approach to acting, working with Woody Harrelson and Colin Farrell and his favorite crime films ...

MSN Movies: Was this film  something you talked about to Mr. McDonagh when you were working on the play "A Behanding in Spokane" alongside Mr. Walken,  or was it just like he said to you, "I've got a script"?
Sam Rockwell: He sent me the script as I was finishing the play and I read it and I was like yeah, this is awesome. He had sent it to me years before, I think.
Back when he was just getting up and running in Hollywood, before "In Bruges?"
Yeah. I skimmed it and I was like 'Yeah, this is great but is it happening?' 'Cause you're always kind of like 'Is this happening?'
Everybody's got great ideas, but who has the money?
Yeah, yeah, exactly. Do you get the green light, you know?
BING: Martin McDonagh l 'A Behanding in Spokane' 
And once he got that and he said, "I'm doing it," you were in?
Yeah, I was way in.
Now I mean, did you have a sense of how the other casting was, that you were joining this ridiculous ensemble?
I mean it came together pretty quickly, but it was Colin and me, and then it was Chris Walken and then Mickey Rourke, who was going to do it and then he dropped out and we got Woody Harrelson, and we were so excited to get Woody.
I'm not going to ask you if it felt like trading up, but when you know Mr. Harrelson was involved that was like, "Oh, okay."
Yeah, it was pretty f$&king awesome to get Woody. I mean it was a real, we were very excited.
I mean when you're sitting around on set with Tom Waits and Christopher Walken, do you just listen? Do they just have the craziest stories?
I wish I could just keep my mouth shut. I get so excited, you know? But I know Chris now, and Tom Waits is a lovely guy. What a sweet, what a great, charming guy. These are all humble people. They're so humble, Colin and everybody. But yeah, I try to keep my mouth shut.  But with Walken, at this point we're like two 12-year-olds, you know?
Right.
We tell fart jokes, and I feel so comfortable with Chris, you know?
Right. If one of you says 'It's an honor to do that duty' one of you laughs 'cause one of you said "doody"?
Yeah, exactly.
The shooting style of the film where it's the nested series of flashbacks and fantasy imagined sequences and some things are written and some are remembered and some are misremembered ... when you're reading it for the first time how much back flipping did you have to do just to make sense of it?
That's a good question. How much back flipping? Yeah, we did a lot of that because it's very complicated. It is. It's not an easy, you got to really track it. It was tough yeah, but we would defer to Martin 'cause he knew. He had the master plan.
At the same time, the nice thing about the film is that it feels a little bit loosey-goosey. There are a lot of threads that are brought up and never quite…
Yeah.
…happen or never quite commit. Or why are there two pairs of mixed race killing couples roaming the earth?
Mhm, mhm, mhm.
Is it nice working with a film where not everything has to be tied off by the end? It doesn't have that predetermined sense of quote unquote closure?
Yeah, yeah. Well some of it's just silly, you know?
Yeah.
(Redacted Character's Name)'s head exploding with the arrow in his neck and some of it is just wild Coyote-and-Road-Runn​er, just fun silliness, and some of it is very pointed ... Yeah. I mean there's just so many great things, you know? But yeah, there was some random silly stuff there and dramatic stuff, yeah. The interracial thing is interesting.
I was wondering, "Is that a thing or is that an accident or is it not an accident?"
Yeah.
When you're driving around Joshua Tree in a large, large car and with those vistas, is it nice to just be able to be able to step out into millions of dollars of production value after like a two hour drive?
Yes, yes, yes, yes. It was, it was. I mean it wasn't a three million dollar, budget it was more than that, but it wasn't a big budget. We all took pay cuts and whatever.
Do you find it's hard working in Hollywood these days where every film has to be either one million or 100 million dollars with nothing in between?
Yeah, it's tough. The recession and the business has been affected, and now you know it's like "Moneyball" or something. They figured out a way to do these, get these, get the players cheap, you know, if they'll show up for good scripts. There's a thing there that producers are very clever about, getting movies made cheaply now, you know?
Putting together a variety of cast with the focus on filming in places they can get tax credits.
Whatever, they have figured it out to a tee now. They know they can make money. They can make movies for no money and make a lot of money. And some of that's great. You get more movies made, and you can get really cool movies made that way like "Beasts of the Southern Wild" was amazing, but sometimes it suffers. The movies look like s$&t or whatever, but sometimes it's great. It depends, you know?
As somebody who has watched your work for a long time, I can think of like specific line deliveries, but I can also think of specific physical things. The little dance in "Moon"…
Mhm, mhm.
I mean do you even think about that? Part of me thinks like 'He's a master of choice, he thinks about where to put every elbow and every eyebrow," but part of me thinks he's just going for it. Which is the case?
You know, you work on it, you work on it. Chris was talking about the French word for rehearsal is repetition, and I think that's a big part of how a lot of us work is just you go over and over and over and you find different ways to do things. But then at the end of the day, you got to relinquish your sort of idea of what you think it has to be. It doesn't have to be anything. It might be something that you didn't even think of but you got to work on it and have a game plan, but then you also have to be flexible and veer off of that game plan. It's like making a touchdown. You got to like, "Uh oh, we got that guy over there. We're going to have to figure another way out." Like that movie "Premium Rush," did you see that movie "Premium Rush"?
I have not yet but just imagining navigating the traffic.
Yeah. There's a great thing that they do where he sees all these options…
Right.
And he goes, "I might do that, or if I go over there I'll get killed, oh there's this little…" and I think it's like that. You're like okay, what are all the options? It's like that. And hopefully you can do some Bobby Fischer business and kind of, if you know all your options, "I can go there, I can go there," go this is the best way to go.
But a lot of it is just doing it and doing it and doing it and knowing it so when the time comes…
Yeah.
…you can take chances.
Yeah.
It's like John Coltrane. John Coltrane can play "Greensleeves," and that's why he can do solos 'cause he knows exactly where to come back to it when he's done.
Mhm, mhm. That's exactly right. And then you have to be on the same page as the conductor, with the director 'cause you might have an idea that they do not agree with. And you might present an idea and they didn't think of it that way and you're either going to talk them into it or you've got to let it go and just do what they want.
Or occasionally the director says, "Oh my God. That's great!"
Yeah, but sometimes people have set ideas and they don't want to. But I really think it's a mistake to not be open to ideas, whether it's the director or the actor. It's a big mistake. You've got to stay open.
I mean looking at Mr. McDonagh's writing work, there's a couple of similarities to David Mamet. The one that's he's a moralist who people think is a misanthrope.
Mhm.
People think he hates people. He's mostly just let down.
That's a good point.
The other thing I'm wondering is, is the dialogue something like Mamet where every pause and "ah" and stammer or half-repetition is parsed out? Or is it where…
Most of it.
…"Here's a line, we need to get to the end of the scene. Whatever you do with it is cool there"?
His notes weren't precise like Mamet. And then a few times he'll let us bury from that. We can add, I think he's more liberal than Mamet, but he let us fly a little bit.
Well, it's similar style to Mamet, Tarantino, David Raymond, and Martin McDonagh. These are monologues in movies. It's very theatrical. It's a theatrical construct. You don't always see that. You see it in "Pulp Fiction," "True Romance." You don't see that in movies.
Like Gandolfini talking about the first time he killed somebody.
That's very theatrical.
I mean when you're working with a theater director, certainly when I saw "In Bruges" the one thing I noted is like it wasn't timid about embracing the cinematic options of the medium. It wasn't just, "Let's just lock the camera down and do the play." When you work with a playwright or somebody from the theater, a lot of the times, does that not quite happen that they don't quite get the grammar of film as well as they know the grammar of stage drama?
Yeah, I think a lot of theater actors that were great, like Walken or Glenn Close later became film actors. I've heard Glenn Close talk about that, in the making of "The Big Chill"--  that you could do very little and convey something in film, yeah. But I grew up on film and I was doing theater as a kid. It's funny. I really had both training, both types of training, but I grew up I was such a film nerd. I grew up on films. And I saw very sophisticated films as a kid. "One Flew Over the Cuckoo's Nest" and "The Deer Hunter" and "Taxi Driver," you know all these movies.
You had really lenient parents.
Yeah, and they were actors, and I was on stage when I was 10. As was Chris Walken, he was on stage when he was five. So that'll make you a different person, too. It'll make you a little stranger than most.
Is it the early beginnings of a slow-cured ham? Like you start in the theater and you're always just that little bit, "Tah!"
Yeah, yeah. Sure, sure.
Not in a bad way.
Yeah.
What to you is the greatest crime film ever made? What do you think is the greatest film about criminal behavior ever?
Wow. Well "The Sting" comes to mind. Geez. What were you thinking of? I mean "The Killing," Stanley Kubrick's "The Killing"? Right?
Yeah.
That's a pretty good one.
With all that money just flying in the wind.
Yeah, yeah, right? That's a pretty good one. I like this movie that I was in called "Heist" which is a David Mamet. I think that's a good one.
"She can talk herself out of a sunburn." That's got some great dialogue.
That's amazing. There's some great dialogue in there. (XXXX) But yeah, god, I don't know.
There's not any…
"The Sting" for some reason is at the top of the list for me.
'Cause it's nearly perfectly constructed and it's so much fun?
Yeah. I mean,  I don't know if it gets better than that.
(For our MSN Video Interview with the cast and creator of "Seven Psychopaths," see below:)
 ("Seven Psychopaths" opens next week; for more on the world of film, look for MSN Movies on Facebook and follow @MSNMovies on Twitter.)
Are you sure you want to delete this comment?