Fantastic Fest Review: 'Paranormal Activity 3'
'Found VHS' Horror three-quel success as it rewinds the timeline, fast-forwards the mythos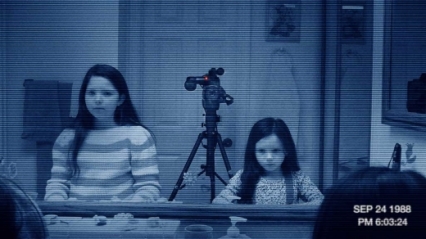 Rating: 3.5/5
One of the traditions of Fantastic Fest is the secret screenings -- kept a mystery from all attendees until, ideally, the last moment between the theater being filled and the lights going down. Earlier this week, the crowd took in Pedro Almodovar's "The Skin I Live In" as the first secret screening of Fantastic Fest 2011; yesterday night -- or, for that matter, this morning -- the midnight crowd were told that they'd be seeing an unfinished cut of "Paranormal Activity 3," the latest installment of the low-budget/high-effe​ct horror series begun in 2007 by Oren Pelli.
Unfinished, yes, but not unwelcome; whether you like the first "Paranormal" or consider it a warmed-over mix of "Poltergeist" and "The Blair Witch Project," it's worth noting that for all of their jumps and jolts , the "Paranormal" films traffic more in tension than in gore, more in half-seen shades of grey than mere crimson blood. Starting with glimpses of the first film's Katie (Katie Featherston) and her sister, the second film's Kristi (Sprague Grayden) as they hand some storage boxes between each other, we see a huge stack of VHS tapes. We then jump back to 1988, where Featherston's and Grayden's mother (Lauren Bittner) is a young mom with a loving boyfriend, Danny, who makes his money filming wedding videos and two darling young daughters, Katie and Kristi … and a beautiful home full of love and laughter and odd nightsounds that, as fans of the series know, will only grow louder as we skip through the tapes …
The conceit of the series -- that all of this is found footage, assembled after the fact, in an attempt to explain the death and terror and unexplainable events they capture -- is either slightly annoying or lightly maddening. For one example, the slow-hand marketing of the film means that I have no way of naming the actor who plays Danny, and must apologize to both him and you. That conceit also means that you spend no small amount of time thinking "Dude, put down the camera …" when, say,  Danny is running through the house when he thinks -- quite rightly -- that his girlfriend's daughters are in peril.
Directed by "Catfish" filmmakers -- the debate if they're documentarians or con artists will be settled another day -- Henry Joost and Ariel Schulman, "Paranormal Activity 3" nonetheless overcomes the problems with the franchise's central mechanic by both delivering serious scares and, more often than you might think, a few laughs. (Joost and Schulman mess with our heads with gags that revel in the awareness of how the previous "Paranormal" films worked without ever leaning on it too heavily.) There's also a few nice nods to "Poltergeist" -- TV's on to static in the middle of the night, creepy toys (including, in a very era-appropriate touch, Teddy Ruxpin) and young parents unwinding with a little reefer.
But the films most often in the mix here are the previous "Paranormal" movies, and screenwriter Christopher B. Landon fills in what we know about the haunted, hounded sisters we've seen as adults with glimpses of their childhood -- specifically, Kristi's imaginary friend Toby, who is neither imaginary nor friendly. The effects are applied with a delicate hand -- except when they aren't -- and as we go from superbly mixed distant creaks that may or may not be happening in the far reaches of the home to  reality-defying catastrophes that crash in front of us to dizzying and startling effect, you can feel Joost and Schulman ratcheting up the tension in this brisk, brief 85-minute striptease of gooseflesh, where you never quite see everything and yet you're still acutely mesmerized.
"Paranormal Activity 3" is mostly only lightly undermined what it is -- a lather, rinse, repeat three-quel  that continues the aesthetic and characters of films we've seen before. At the same time, better the scares and startles of the "Paranormal" series than the gore and gross-outs of, say, the "Saw" films or Rob Zombies bloody, boring "Halloween" retreads. I'd be quite happy if this were the last "Paranormal" film -- the only places to go are, I should imagine, back to a past of pioneer days or forward to a future of jumpsuits and food pills, and I can't quite imagine either working -- but also because it would be nice to have a horror franchise go out not with a whimper but a bang.
("Paranormal Activity 3" will be released later in October.)
Are you sure you want to delete this comment?