Blu-ray News: The Warner Archive introduces Blu-ray
'Deathtrap' and 'Gypsy' are the first releases in the new program
The Warner Archive, the label that pioneered the manufacture-on-deman​​d business, offers its first Blu-ray titles.
It announced the release this month of "Gypsy," the 1962 musical starring Rosalind Russell and Natalie Wood, and "Deathtrap," the 1982 hit Broadway murder mystery with Michael Caine and Christopher Reeve, on Blu-ray (full 1080p) exclusively through the Warner Archive website.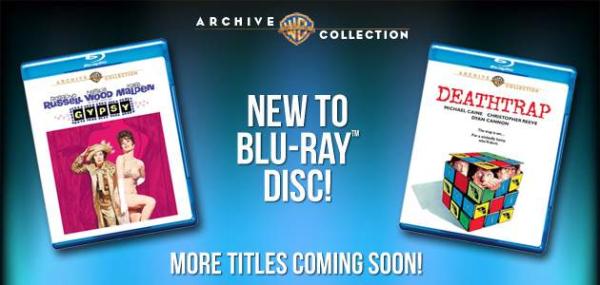 I haven't received a copy of the discs yet so I can't speak from experience, but it appears these will follow the same format as the DVD releases, with simple movie-only presentations and basic menus, with one defining difference: the discs with replicated. In other words, these discs will be pressed, rather than burned in the DVD-R manner, in small batches to meet demand as they are ordered. The initial price point is $19.95 apiece, plus shipping and handling.
These first two releases will be it for 2012 and then the studio hopes to introduce a minimum of one or two titles every month beginning February 2013.
Are you sure you want to delete this comment?