Videodrone True Stories: 'Searching for Sugar Man'
The Oscar-nominated documentary debuts on Blu-ray and DVD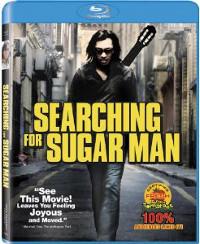 "Searching For Sugar Man" (Sony) is the kind of documentary that makes non-fiction films more interesting than most commercial movies. Detroit singer / songwriter Rodriguez recorded two albums in the early seventies and then disappeared without a trace, just like the albums. Except in South Africa, where (unbeknownst to him) those albums became bestsellers and the voice of rebellion at the height of apartheid. Swedish director Malik Bendjelloul tracks the story and finds a humble, giving man who spent his life raising a family as a construction worker with no regrets or bitterness over missed opportunities or lost fortunes, and a legacy of music that this documentary reintroduced to America.
New York Times film critic Manohla Dargis praises the film: "while occasionally the movie teeters close to embracing bromides about the universal healing power of pop culture, there's too much sincerity in "Searching for Sugar Man," too much love and enduring human mystery for cynicism to take hold. In the end Mr. Bendjelloul went looking for a man and found something much greater."
Blu-ray and DVD, with commentary by director Malik Bendjelloul and Rodriguez, the featurette "Making Sugar Man," and "An Evening with Malik Bendjelloul and Rodriguez," a ten-minute Q&A from the film's showing at Tribeca. Also On Demand and available at Redbox.
More documentaries at Videodrone
For more releases, see Hot Tips and Top Picks: DVDs, Blu-rays and streaming video for week of January 22