Meet Some 'Beautiful Creatures' in First Trailer for Supernatural Romance
A new series for 'Twilight' fans to fall in love with?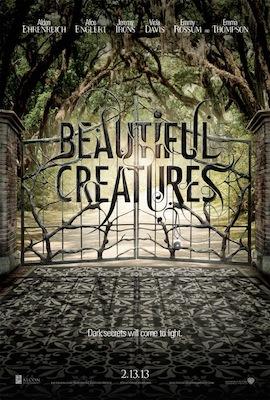 You know what "The Twilight Saga" was always missing? Really, really, tremendously over-the-top, almost silly Southern accents. Luckily, we'll soon have the big screen adaptation of Kami Garcia and Margaret Stohl's "Beautiful Creatures" to not only fill the vacancy left by the soon-to-be-over "Twilight" series, but to also fill it with said bad accents. We sort of can't wait. 
When we got our
first look at the film
back in May, we learned that "the Southern gothic co-stars Viola Davis, Jeremy Irons, Emma Thompson, and Emmy Rossum, who are joined by fresh faces Alden Ehrenreich and Alice Englert as the romantic leads. Ehrenreich stars as Ethan, a small-town resident who begins dreaming of a mysterious girl -- who ends up being Englert's Lena, a newcomer to the tiny town. But Lena has a background that might help explain just why Ethan is dreaming of her, even as it spells trouble for the pair and everyone else in their town. Hint - it involves magic." And, according to the film's first trailer, it also involves those bad accents, lots of scary/sexy Southern settings, and the potential for some actual scares. Nice job, "Beautiful Creatures."
Check out the first trailer for "Beautiful Creatures," thanks to
Apple
, after the break.
The book is the first of "The Caster Chronicles" series, planned as a four-book series made up of "Creatures," the also-released "Beautiful Darkness" and "Beautiful Chaos," and the 
soon-to-be-published​​
 "Beautiful Redemption." Have you read the books?
"Beautiful Creatures" opens on February 13, 2013.

Are you sure you want to delete this comment?