'Zombieland' pilot lands online for free
How does it compare to the 2009 horror-comedy hit?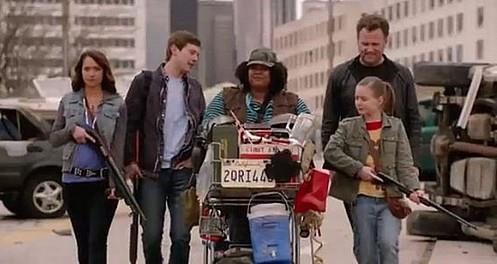 "Zombieland" became a surprisingly strong box-office hit when it opened in 2009, but writers Rhett Reese and Paul Wernick had originally pitched it as a TV pilot. Now that a big-screen sequel has failed to come to fruition, for whatever rea$on$, the horror-comedy has nonetheless been spun off into a prospective small-screen series.
I say "small-screen" because it seems like a misnomer to call "Zombieland: The Series" a television show, coming as it is from Amazon's Instant Video division. In their ongoing effort to compete with Netflix's seemingly successful run at original programming,
Amazon
has made available "Zombieland" and seven other sitcom pilots, in addition to a smattering of kids' programming, and is inviting viewers to determine which shows should actually see a full run of episodes.
So how does "Zombieland: The Series" hold up to "Zombieland" the movie? Well, it's hard not to see Kirk Ward, Tyler Ross, Maiara Walsh and Izabela Vidovic as a less-dynamic version of the film's original ensemble, but director Eli Craig ("Tucker and Dale vs. Evil") brings a welcome energy to Reese and Wernick's leftover sequel ideas beyond simply recycling the on-screen "rule" gags. The end result may not be quite as funny or novel as the film version, but I'd rather watch this kind of zombie series on a weekly basis than "The Walking Dead" at this point.
What do you think, Hitlisters? Take a half-hour out of your schedules and let us (and Amazon) know what you think of this pseudo-sequel.

Thinking this would be better then Walking Dead is laughable. Walking Dead is far to popular to be out done by a series based on a movie but lacking the original cast. Zombieland was a great movie and it might be a relatively entertaining series... but without Woody... it won't go far and it is extremely doubtful that it will ever even come close to the popularity of Walking Dead.

Are you sure you want to delete this comment?