Check out this new 'Iron Man 3' poster featuring Ben Kingsley as the Mandarin
Doesn't he look kind of lackadaisical to you?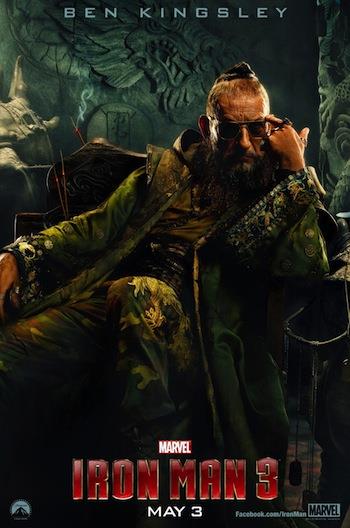 As its May 3rd launch grows ever closer, the producers of "Iron Man 3" are gradually ramping up their promotional efforts. Today, they released a new poster featuring Ben Kingsley as the Mandarin, seen at right. In it, Kingsley doesn't exactly appear hellbent on destroying Robert Downey Jr./Iron Man's personal life—or anything else, really, for that matter—more than he looks intensely world weary and vaguely irritated, kind of like a 16 year-old cat. Which is kind of scary and intimidating in its own right. However, we can't help but think that this poster lacks the visual dynamism and intrigue that surrounded earlier "Iron Man 3" posters of, say, Don Cheadle as the "Iron Patriot."
Which isn't to say that the image isn't densely packed with tiny visual tidbits that fanboys and girls can't pore over for the next two and a half months. Is Kingsley's wardrobe significant? Does his exotic robe and decorated camo-pants look exude a kind of Tyler Durden-esque
laissez faire
attitude towards personal style? And is that, actually, kind of cool? Also, what about the carvings on the wall behind him? Are they, uh... Yeah, we have no idea. 
What do you think, Hitlisters? Does this new poster capture your imagination? Does Kinglsey look like a worthy foe for Downey Jr.? Or does he look like he wants a glass of hot milk, and then to be kindly put to bed? As always, let us know in the comments, or on MSN Movies 
Facebook
 and MSN Movies 
Twitter
.