Interview: Anna Kendrick of 'ParaNorman'
'I would leave every session really amped up and my adrenaline would be pumping...'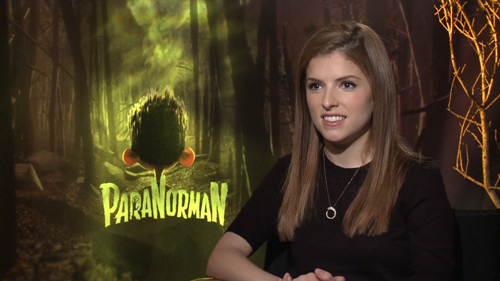 In the briefer moment of the small talk before our brief discussion, I may have joked that Anna Kendrick is, in fact, approximately the same size as the stop-motion puppet she brings to life in "ParaNorman," the title teen hero's older sister Courtney. And Kendrick, a good sport, laughed. As Courtney, Kendrick gets to do a go-for-broke comedic vocal performance, and it's a departure from her always-funny work in dramas like "Up in the Air" and "50/50" that the young actress makes work as part of the film's tributes to past horror films and pop culture. We spoke in L.A. about classic horror, the magic of stop-motion and the pleasures of playing someone deeply superficial. 
MSN Movies: You've gotten acclaim for great, fully realized characters in movies like "Up in the Air" and as the highlight of "50/50" in many ways. What's it like to play a character so deeply superficial? So deeply shallow?
Anna Kendrick: (Laughs) It was so much fun.
Yeah?
Yeah. Like inappropriately fun. I look at Kodi Smit-McPhee who has to carry this movie, you know with his vocal performance, and I just feel like so lucky. It was such a treat to play someone so crazy and all over the map. Like I would get the email saying, "We need to schedule your next session" and I would genuinely be like excited. I would leave every session like really amped up and my adrenaline would be pumping because I loved the idea that when you walk into a room you never know which Courtney you're getting. Like, is it like euphoric Courtney or like mood swing Courtney?
Decent supportive big sister Courtney or horrible status-obsessed…
Sociopath Courtney.
The other thing I'm curious about is at any point do they take you to the Laika facility in Oregon and show you all of the work it takes to bring you to life?

They really encouraged us to do that and I was so on board. Like, that was the first thing I asked when I met the directors is like, "Can I come and see it being made?" And my schedule just ended up working out that I couldn't go until they were done filming. So I know some of the actors saw things being animated and I didn't, but the bonus to going when they were done filming was that I could really get up close and personal with the sets and kind of touch everything and move everything. I could walk around inside the sets. There was one set that was supposed to be a street of the town that had been destroyed so I like got to walk around in it and take pictures like I was the 50 foot woman which I thought was hilarious.
This huge linear 40, 45-foot long foot set I saw where they recreate the Main Street …
That's right.
Meticulous detail. For all of the talk about technology being at the heart of these films, whether it's like the century old stop-motion or the new CGI stuff that was part of it, how important was it to you reading this that the story mattered? That you liked the characters and you liked the tale?
That was absolutely something that as actors .... we think it's important. But what the director talked to us about when I did my first session was the idea that the soul and the humanity and the humor has to come through and be real and spontaneous because the process is so meticulous, and they never want it to get stale. So as much as their brains are focused on this attention to detail, they're absolutely thinking about the bigger picture.
So much of this movie is informed by a love of classic horror films. Mr. Smit-McPhee mentioned he was a big Friday the 13th fan, your co-directors were talking about things like Universal Monsters and "Night of the Living Dead." What's your favorite horror movie memory when you were younger?
When I was like 11, I saw "The Bad Seed," and I went around with the braided pigtails and acting like I was Rhoda 'cause I was crazy.
That's not right. That's completely wrong.
Yeah … but it's a great movie.
("Paranorman" is in theaters now.)
Are you sure you want to delete this comment?