'Magic Mike' Trailer Sees Channing Tatum Taking It All Off for the Ladies (and the Money)
Alex Pettyfer, Matt Bomer and Matthew McConaughey also strip for Steven Soderbergh's summer comedy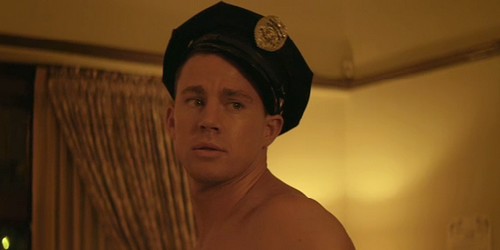 I don't think it's an accident that Steven Soderbergh went from making "Haywire" with Channing Tatum to taking on a fictionalized version of Tatum's own early career as a male stripper with "Magic Mike." Hey, if he could make an entire spy thriller around MMA fighter Gina Carano just because he wanted to, then he wouldn't have a problem cranking out a dramedy about and starring Tatum himself as Magic Mike.
As such, "Magic Mike" is shaping up to be cheaper, smaller, more adult summer counter-programming against the teen-drawing blockbusters (including Tatum's own "G.I. Joe" sequel, also opening on June 29th); it's armed with an R rating and a cast that includes Matthew McConaughey (in full-on "alright, alright" mode), Alex Pettyfer, Matt Bomer, Olivia Munn and newcomer Cody Horn.
In a year that has already seen Tatum in three releases ("Haywire," "The Vow," "21 Jump Street") and will go on to feature him in "Ten Year" and the aforementioned "G.I. Joe: Retaliation," "Mike" could either prove his dramatic chops, raise his box-office profile, do neither or both. We'll see this summer if Channing Tatum is in fact the only thing standing in Channing Tatum's way. The full trailer is up at
Apple
, and we've also embedded it below.