Weekend box office: Ringing in the moviegoing holidays
Yes, Renesmee, there is a Santa Claus! (But please don't let your family members kill him.)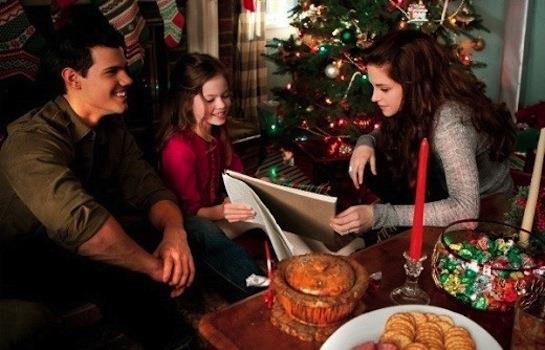 Twilight fans continued to storm the multiplexes over the holiday weekend to get more of their favorite hottie vampires and werewolves. But they weren't the only moviegoers—it was an excellent weekend at the box office even though holdovers from the past few weeks outperformed some of the new releases. Still, the numbers bode well for the Christmas and Oscar-qualifying movie extravaganza that we'll see from now until the end of the year.


Despite a huge dip from last week, no one is surprised to see "Breaking Dawn, Part 2" still far ahead of the pack. The country's #1 film added $43.6M (at 4,070 theaters) to its already staggering $227.3M domestic gross (after less than two weeks!). "Skyfall" stayed put at #2, pulling in a very healthy $35.5M (at 3,526 theaters) and a new domestic total of $221.1M. Spielberg's "Lincoln" also stayed put in the #3 position as good word of mouth continued to spread and brought even higher ticket sales of $25.6M (at 2,018 theaters) over the holiday weekend. At #4, Disney/Pixar's new 3D "Rise of the Guardians" was the go-to film for family audiences, netting $23.7M (at 3,653 theaters) and another $8M since its Wednesday opening.  At #5, "The Life of Pi" performed better than expected, bringing in $22.4M (at 2,902 theaters) and again, another $8M since its opening the day before Thanksgiving.


Disney's "Wreck-It Ralph" slipped to #6, but still managed to add $16.5M (at 3,259 theaters) to its domestic gross which is $149.2M after four weeks. At #7, the new remake of "Red Dawn" did not perform as well as hoped, earning only $14.2M (at 2,724 theaters). The challenging "Flight," now at #8, brought in $8.5M (at 2,638 theaters) while the charming "Silver Linings Playbook," at only 367 theaters, earned $4.3M and a trip to the Top Ten. Finally, at #10, "Argo" showed its staying power after seven weeks as it added $3.8M to its domestic total of $98M.
Now that we've officially entered the holiday season, will each weekend bring a bunch of new blockbusters? Not exactly. The only real contender next week involves Brad Pitt, high-stakes gambling, and lots of guns. But never fear—a group of hobbits, dwarves, elves, and others, as well as a band of 19th-century French peasants singing their guts out are just around the corner!