Interview: Kyle Chandler and Jennifer Ehle of 'Zero Dark Thirty'
'Some of ("Zero Dark Thirty") is very, very difficult to watch ... but we were all complicit in it.'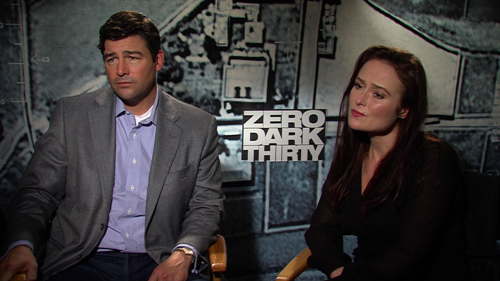 He's best-known for playing Coach on the TV iteration of "Friday Night Lights"; she's a British actress who first made an impression on U.S. audiences with her smart, skillful work in "Contagion" this year. Now, in Kathryn Bigelow's "Zero Dark Thirty," they play CIA employees -- strategists and field agents -- on the trail of Osama bin Laden; we spoke with the two in New York about the challenges of telling the story and the deeper moral complexity of the film's seemingly swift-and-simple storytelling.

MSN Movies: What's the one thing you learned doing this film that you didn't know from all of the public knowledge about the death of Osama bin Laden?
Kyle Chandler: That's a good question. I don't think there's one specific thing. I think that my answer would be that it took me back to all the specific details put together in a compilation. I had forgotten a lot of my past over the past ten years. And I'd forgotten a lot of the story and a lot of the pieces that went along with it. Even this morning I was looking at 9/11 itself, which is a spot for you to begin this that is so powerful that gives you the weight of these characters already and what they're doing. But just looking at it when you look at the different places that were attacked -- the planes, the Pentagon, the Towers,  the first responders ... I'd forgotten as a whole, you know? I don't think I wanted to know. And as you watch the film  ... I want to say that I know but it's not something that you think about. It's there.
It's a historical knowledge, but not a visceral one.
Chandler: Yeah. You get into this. The first minute and thirty seconds of the film take you to a spot that is uncomfortable, and you're uncomfortably morally asking a lot of questions, I think, throughout the film, but they're honest questions. And at the end of the film I think you're asking yourself, "Okay, now what? What's next?" Within all that, within what the story is about -- the greatest manhunt after one of the worst tragedies in our history -- it's hard to say that it's entertainment, but it's a great story that is told so seamlessly and beautifully and crafted so well by Kathryn and Mark. And within all that context you've got just a great damn film.
BING:  Kyle Chandler l Jennifer Ehle
There's a great quotation from George Orwell who says we sleep safe in our beds because rough men stand ready to horrible things to those who would harm us. Was one of the pleasures of signing up for this film getting to bring to life some of the rough women who stand by protecting our way of life from people who would harm us?
Jennifer Ehle: Well, it is rare to play a woman who is not defined by her relationship to a man. To play a woman who is defined by her relationship to her work, and for it to be such extraordinary work, and then to get an opportunity to portray that in a setting by Mark Boal interpreted by Kathryn where these characters don't ... nothing in the movie is done as if anybody's doing heroics, including the SEAL Team. It is all the day-to-day work. And what is fascinating about this movie is they kind of removed the fourth wall and given us a chance to see what was going on over the last 11 years. And it's all of our story in a way, but a lot of it is a revelation 'cause it's fascinating, and I don't think we don't get many opportunities to watch what those rough men are doing. And some of it is very, very difficult to watch ... but we were all complicit in it.
For more about "Zero Dark Thirty," see our video interview with the cast and crew:
Want more Movies? Be sure to like MSN Movies Facebook and follow MSN Movies Twitter.