New 'Oz The Great and Powerful' trailer is filled with CGI and a bored James Franco
This yellow brick road is paved with bad decisions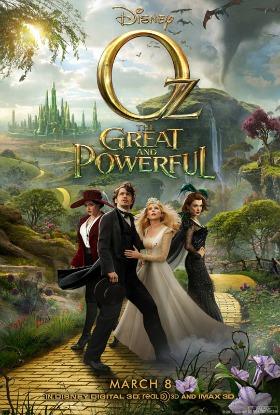 Tim Burton's 2010 take on "Alice In Wonderland" was a tremendous financial success for Disney. The film made a staggering one billion dollars at the box office alone (not even considering merchandising, toys, or home video receipts), and it proved that audiences will turn out for films that retell classic tales with lots of jazzy technological advancements. And yet - Burton's "Wonderland" was one of the most hollow, empty, and soulless films that the Mouse House after turned out. I loathed it. It made me sad, and it made me angry.
Bing:
'Oz The Great and Powerful'
|
Sam Raimi

So you can probably imagine that I am none too pleased with Disney's latest live action venture: Sam Raimi's "Oz The Great and Powerful," a film that, in addition to needing a colon or a comma in its title, looks to be a cousin to "Alice" in all the worst ways. Overly-CGIed, featuring a recognizable cast that look bored out of their minds, and telling a story that, as best we can tell, no one was clamoring to see, "Oz" will surely be the "Alice" of 2013, and that's not a good thing.
The film centers on "Oscar Diggs (James Franco), a small-time circus magician with dubious ethics, [who] is hurled away from dusty Kansas to the vibrant Land of Oz, [where] he thinks he's hit the jackpot--fame and fortune are his for the taking--that is until he meets three witches, Theodora (Mila Kunis), Evanora (Rachel Weisz) and Glinda (Michelle Williams), who are not convinced he is the great wizard everyone's been expecting. Reluctantly drawn into the epic problems facing the Land of Oz and its inhabitants, Oscar must find out who is good and who is evil before it is too late. Putting his magical arts to use through illusion, ingenuity--and even a bit of wizardry--Oscar transforms himself not only into the great and powerful Wizard of Oz but into a better man as well." Sigh. It will probably make two billion dollars.
Check out the first full-length trailer for "Oz The Great and Powerful" after the break, thanks to
Apple
.
"Oz The Great and Powerful" will open on March 8, 2013.
Want more Movies? Be sure to like MSN Movies 
Facebook
 and follow MSN Movies 
Twitter
.