Interview: Casper Christensen and Frank Hvam of 'Klown'
"In the TV show, we had smaller stories -- but you can't make a film about a missing pen."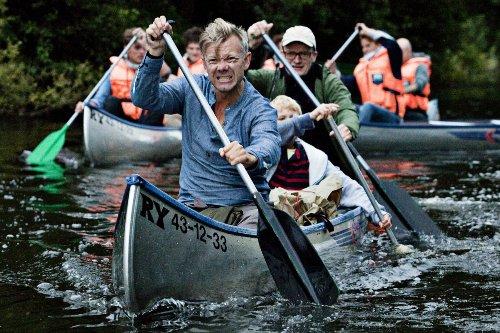 In one of the strangest, strongest and most scabrous comedies of the year, Casper Christiansen and Frank Hvam return to roles they've played for six years on TV ... in Denmark, for a show almost no one has heard of in America. But the big screen comedy based on their show -- and sharing its name, "Klown" -- is a hysterically transgressive comedy, full of sex and failure and humiliation all buoyed, slightly, by the heart and kindness of the characters, even in the middle of a clumsy three-way or kidnapping a kid. In "Klown," nerdy, nervy Frank Hvam is told by his girlfriend he's to be a dad, even though he's spectacularly unsuited for it. Frank's friend Casper Christensen, pleasure-seeking reprobate,  is about to lead the two on their annual drink-dope-screw canoeing trip, but Frank kidnaps his nephew Bo (Marcuz Jess Petersen) to prove -- through crime -- that he can, in fact, be a good father. Everything, of course, goes wrong. We spoke with Hvam and Christensen in L.A. about ratings, why the Danish version of "Cannonball Run" would be so short and abut the very good question of why they make the comedy they do...

MSN Movies: What makes you make the decision to go from 6 seasons of a TV show to a film? Is it just not being done with the characters, a chance to have fun, make money, the pleasure of working together, or a mixture of all those things?
Casper Christensen: It's a mixture of all those things. We spend…
Frank Hvam: Not the money.
Christensen: … not the money. We can make money. But we stopped working on it and took a pause for 2 years and not worked with the characters, and we both wanted to go work together again, we wanted to do a movie. And we discussed back and forth that we wanted to start new characters, we wanted to find a new universe to work in, but I had that thought it would be really good for us for our first movie to work with something that we already knew something about. I mean, we know the characters, we know so much about how they interact, so why don't we just go that way? And I convinced you at the end…
Hvam:  Yeah, I didn't want to do it to start with; I thought we were done with the universe …
You felt very closed, you were done, you wanted to walk away…
Hvam: Yeah: "We should do something else." But thank God he convinced me. We wanted to challenge ourselves.  We knew the structure in a 25 minute episode; we knew exactly how to build that one. But to make a whole movie -- that was a bit challenging. We had to find something emotionally more heavy for a movie, create a story -- a bigger story. In the series, we had small stories all the time; there could be an episode about a pen that was missing. You can't make a film about a pen that's missing.
It'd be a pretty important pen.
Hvam: Yeah. (Laughs). So we started out actually figuring out what story we wanted to tell, and it became a story about a man who's fighting for his marriage and his unborn child, and he's trying to convince the world that he's a good dad.
Christensen: We're both fathers. It's chill. We talk about…
Hvam: There's so much talk about what's a good dad and what's a bad dad…
Christensen:  And from the outside, I might not be a good dad. You know, divorce, everything about it, comedy, tattoos ... But yeah, my new girlfriend is very young and stuff like that.  But you know, my kids are growing up to be beautiful human beings, having a great life, and you know, you cannot - I don't think you could put a label on people saying, "That's the way you have to be a dad." That's important. That's why we did the movie.
Hvam:  The most important thing is to be loved when you're a child.
Christensen: Yeah, yeah, that's true.
Hvam: Everything else doesn't matter. That's just the wrapping.
It's really, really interesting to note you guys saying when that you felt when trying to do the characters when the characters are fairly transparently based on both on you. I mean, how are the film Frank and Casper different from the real Frank and Casper?
Hvam: I'm able to do an interview like this without insulting you…
Right.
Hvam: … in real life, without saying anything totally stupid.
Would it be safe to say that the film and the TV versions of yourselves are you but on fast-forward?
Hvam: Yeah.
Christensen: That would be a good way to put it.  Some of the things - most of the things - especially on the television shows are things that we have experienced ourselves. In the movie, we turn it up just a little bit more, right?
Hvam: Yeah.
Christensen: We let the imagination put extra stuff on it, but the characters are based on a person that we are, just a little bit extra.
Hvam: Yeah.
A little more of the ID, and a little less of the Superego?
Hvam: Of course if Casper was such a jerk in real life, we wouldn't be friends, so ... 
Christensen: I think maybe that's the thing that, really the thing that's turned up - the asshole side of me. That's not maybe the dominant part, but being stuck up and partying too much, and womanizing…
Hvam: But then again, if we've been friends for many years you tend to forgive each other a lot… again, again, again.
Christensen:  And you've got to remember something.  We write this together, so there's a part of the way I am in Frank's character and the other way around because we write it together. We just find funny stuff inside of ourselves - just project it into different characters.
How much of it is pro forma scripted and how much of it is improvisation? Because it feels like there's a lot of wiggle room for you guys to do stuff in scene and on the day. But it also feels like you guys have your timing worked out - like the awkward threesome scene - that's some great timing, but I'm also wondering is that instinctive or is that completely written by the time we get to it.
Christensen: We have a very strict story, we got to follow that story very strictly. But in that, we have room to have the timing to be funny with the dialogue. And it's a good thing because you don't write the script to lead to a funny situation. You write the script to find places to find the funny situation. Meaning that, once we have to act out the situation we have so much room and space to be comedians, not actors. And that's what we are. We're not actors; we're comedians. We try to be funny. The threesome scene - that was one of the hardest scenes to shoot because we really try not to laugh.
Hvam: Yeah. It was so hot in there and we could smell each other.
Christensen: Oh man, but that scene, we didn't know the actor who's playing that girl that well. It was the first time we've met her.
Hvam: Yeah.
Christensen: I didn't even go to the audition with her. You did it for me because I was not home. So I had never met her before in my life. And we had to be naked, both of us, to do it because…
Nothing like a big, hearty threesome on the first day you meet someone.
Christensen: (Laughs). And yeah, so that was just hard. We shot that scene like 20 times.
Hvam: But then again, it doesn't say in the storyline exactly how we should be in the bed, for example, how she would be on, you would be on top, start with her on top, you know. That was something we found out during the scene because you know it has to be natural, you have to feel that it should be real.
Christensen: And the hard thing is, you're in this awkward situation right? And you really want to believe this could happen so you can't say things that are funny, you have to be funny. It has to be motivated. Why does the character say that? And one of the funniest lines I find is we're talking about, "God, do something Frank! She did so much for us. She made us pancakes." And that line is just on the verge of being too funny. I mean, nobody would say that in a situation like that, but it kind of works out. (Laughs).
It's just good manners.
Christensen: (Laughs). Yes it is.
If someone makes you pancakes, you violate them.  
Christensen: (Laughs).
The whole idea of doing the canoe trip, was that a chance to open up the story a little bit, give it a little more production value, get out of…
Hvam: Yeah, you're right.
Christensen: Absolutely right. The television series is all shot in the same part of Copenhagen because of the expense of travelling around. So we knew we had the chance with the movie, we wanted to show the countryside, we wanted to get out there.
Hvam: Yeah, we love road movies ourselves. We're big fans of "Sideways" and stuff like that. So yeah, we wanted to get on the road. And because Denmark is such a small country, you can drive from one end to the other in 4 hours, we had to slow ourselves down, put ourselves in low gear.
A literal road trip just wouldn't have worked. Then it would've been a 4 hour trip.
Hvam: Yea.
That explains why the Danish version of "The Cannonball Run" is so short.
(Laughs).
Christensen: But there's also something about Frank's character, my character, in that canoe, and the boy's trapped in the vehicle, on  board, he can't get out. I mean, there's just something good about that picture. And that's why canoeing as a sport is so good for us.
Hvam: And there's a reference to "Deliverance" also. The "Deliverance" feeling is in the movie. (POSS)
What's interesting is that the film is essentially about a kind-hearted kidnapping. You take this kid who you shouldn't take to demonstrate you can be a father even though kidnapping a child is probably not very high on the list of things a father would do. How much of this was drawn from your own trial and error as parents of, "Okay, I never did that. But I can see how it might happen, and I can see that it would be hilarious if it did"?
Hvam: (Laughs). Yeah.
Christensen: The think about being a grown up man with a man life and having a kid at the same time -- it's a balance I find, you know, you really like to go out at night, I'm so happy my kids are not with me when I go out, so that's a balance the whole time. One of the problems with having the kids with you when you try to be free once in awhile. That's one of the things we talk a lot about that we really wanted to put in that movie.
Hvma: Yeah, and grown-ups, there's so much pressure. Grown ups, we… you know, it's a story about a couple of desperate men that tries to -- Frank tries to do good, and in his trying to be good he's doing so much wrong. And that, I think, it happens to adult people all the time. We're trying to do good, but we do wrong.
Christensen: If I'm trying to do good, Casper tries to feel good.
Hvam: Yeah, yeah.
Do you find, as you age, that you think, "Well I'm getting older. I'm getting more and more control of my career faculties. I'm getting better and better at gigs. I feel like a grown up, but I also know that I have an entire closet full of unfiled tax receipts crumpled into balls and thrown away." Do the parts of your life where you feel like you're not a grown up stand out even more as you move on in years?
Christensen: No. I really think that more I grow up and the more I feel grown up, the more I have the right to live the way I want to.
Hvam: (Laughs). Yeah.
You can have dessert first if you want to.
Christensen: I can do whatever I want 'cause I'm a grown up! I have that much experience now that I know the consequences of what I do.
But is it hard to live that way around your kids because…
Christensen: Yeah, but that's why you've got to get divorced so you only have them half the time. That's the way you build that life.
Hvam: (Laughs).
That's the most lively, terrifying comment.
Both: (Laughs).
When the film got picked up by Drafthouse Films it had to be gratifying to know that you were getting an American distribution. Was there any concern about you know, we're kind of introducing ourselves and our brand based on this show people don't knowh or was the feeling that this story was self contained enough that people could leap onto it?
Hvam: I don't think about it at all. We just wrote the movie in for ourselves to start with and then it's sealed that people over here liked it. It did well in public festivals. And something we found out, you liked the movie and that was very exciting for us.
Christensen: It kind of surprised us how well it translated, and especially because we did 60 episodes before the movie so the audience has been like, they know they characters. In order to put that much info into it, we don't have to explain the relationship between the people. We just go right ahead and start the story. And it seems like people just liberated they don't have to go through so much info about the characters. We go right to the story…
Hvam: Yeha. That was a lesson for us. Just tell the story.
Christensen: Just tell the story. People will find out down the road.
The film has been purchased for a remake for America. The question is, do you have any input into that? Do you want any input into that? Or is it a whistle inside your checks?
Christensen: Let's put it this way - we think that these people who picked up the movie, Dan McBride and others  - they're very good. We were happy that those ones picked it up. We would love to help as much as possible 'cause we loved the project and had so much fun with it. If they want to run with that and just do it, we can't wait to see the movie.
What film would you two most like to do next? Is it going to be more "Klown" or something completely different if you go on the screen again?
Hvam: We don't know. We could make a sequel. I'm sure we have some good ideas for that.
Christensen: But at the same time it seems like we're pulling a little bit towards something new, something completely different.
Hvam: Yeah, another comedy. We'll find out. Of course, all this is so exciting, getting over here and telling about "Klown" the movie. Of course we would not say we won't make a sequel. It could happen ...
Christensen: Right. We have different careers beside this and so we have to choose when to write together again. We already decided on starting a new writing together again so there's got to be some project.
Hvam: Yeah. We'll find out.
There are a lot of jokes in this film that shouldn't work or could be potentially terrifying, unfunny, upsetting, disfiguring either emotionally or physically. But they all pass because they're funny. Do you just know when you're making it "That's funny and that'll work" or do you have a super long test edition of the film where you're like, "That one joke with all the genitalia didn't work at all…"
Hvam: We don't test the audience at all. We don't believe in using test audiences.
And you just don't have a filter, you just run through your own sensibilities and go, "That feels like they're going to laugh"?
Hvam: Yeah.
Well, you guys are goddamn right. You guys are geniuses.
Christensen: Thanks.
(Both Laugh.).
("Klown" is now in limited release and available on VOD.)