'Safety Not Guaranteed' Poster Wants Someone to Go Back in Time With It
A time-traveling love story that will charm you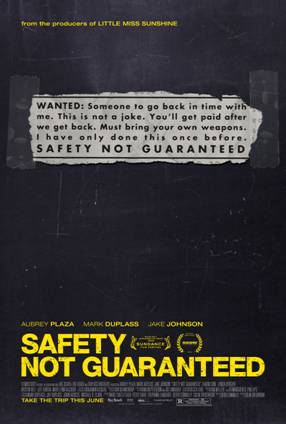 Inspired by a real classified ad written back in 1997, director Colin Trevorrow's charming film, "Safety Not Guaranteed," puts an unexpectedly sweet spin on the sort of thing that seems otherwise doomed to urban legend status. The film stars indie it boy (man?) Mark Duplass as supermarket clerk Kenneth, an outcast and loner who maintains that he knows how to time travel, he's done it before, and he's about to do it again. Journalist Jake Johnson goes looking for him, with two bored interns (Aubrey Plaza and Karan Soni) in tow, and the three attempt to crack the case of Kenneth.
What follows is a very sweet, very unexpected, and very funny film that's much more about life
right now
than it is about traveling to another time. The film has shown at both the SXSW Film Festival and the Sundance Film Festival, where it won the Waldo Salt Screenwriting Award. It's a true gem, and the film's official theatrical poster keeps it simple, not overselling or overstating the film in any way. It's wonderfully reflective of the film itself.
"Safety Not Guaranteed" opens in New York City, Los Angeles, Seattle, and Portland on June 8. Play nice, and maybe we'll get some expansion cities in there. If you're still in need of a refresher course on the film, check out the trailer after the break.