Arnold Schwarzenegger returning to 'Conan The Barbarian' franchise
Because that worked out so well for Jason Momoa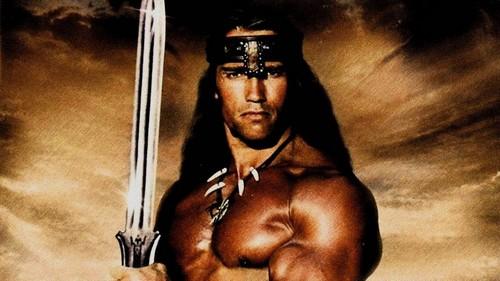 Upon leaving office as the governor of California, Arnold Schwarzenegger has certainly been keeping himself busy. Despite a six-year absence from the screen following 2004's "Around the World in 80 Days," Arnie returned in 2010's and 2012's "Expendables" films and already has three releases lined up for next year.
On top of that, the 65-year-old action star may be returning to the first franchise that made him famous.
The Playlist
reports that Arnie will lead "The Legend of Conan" as the appropriately-aged barbarian, dismissing whatever took place in 1984's "Conan the Destroyer" -- let alone last year's would-be reboot -- and moving forth with his story. Says producer Chris Morgan: "Think of this as Conan's 'Unforgiven.'"
What do you think, Hitlisters? Is this too little, too late? Or are you still game to see Schwarzenegger crush his enemies, see them driven before him, and to hear the lamentations of da wimmen? As always, let us know in the comments below.
It is age wise the right time to do the next step of Conan. As the aged old warrior/Barbarian. Lets face the real hard facts: #1 Arnolds real age, #2 lack of real training as he did back then. Yes for his age He's still great but not the same. The main thing wrong with the remake of Conan, "Was the movies title, Mora was OK but had the movie and main person been called anything but Conan, it would have made it ok. The movie was a little better than good, but funny as well. But the fans and "Nasty" Criditcs werenot ready for any one but Arnold,in the roll. But lets remember that his "Homie" Rulf did fairly well in the tv series of Conan. Bring on a "GOOD" script and a better producer/Director and Arnold's next Conan will have a chance.(nice choise Jerry Bruckhimer,or the team that did Gladiator")
Are you sure you want to delete this comment?