Interview: Ari Graynor of 'For A Good Time, Call...'
'You buy a box phone on Ebay and you paint it hot pink ...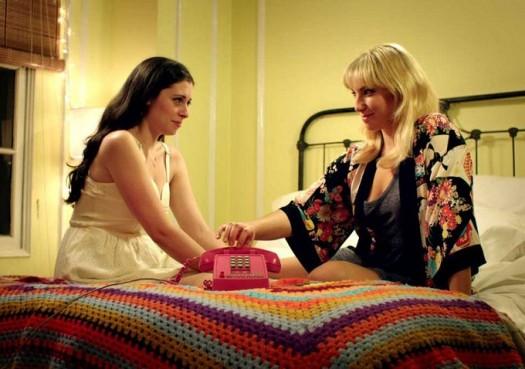 With her shock of blonde hair and her sidelong amused glance -- every sentence out of her mouth a private joke -- it's easy to understand why Ari Graynor should be a star. And with "For a Good Time, Call ..." Graynor's working as not only a star but also as an executive producer, moving past the supporting-part sass she's added to films like "Nick and Norah's Infinite Playlist" and "Celeste and Jesse Forever." In the film, Graynor's cash-strapped New Yorker is dishing up for-a-good-time-call​ services and labors at slave wages; her old rival and new rent-reducing roommate Lauren (Lauren Anne Miller) soon becomes her manager, mentor and, yes, friend. We spoke with Graynor in Los Angeles about female relationships in comedy, blue language and pink phones.
MSN Movies: When you're being sent pretty much every script out there written for a human being between their '20s and their '30s…
Ari Graynor: Oh yes, every script.
Well, no, but a lot of them. How rare is it to find one that talks about sex in an even vaguely intelligent and honest way?
I mean, when I got this script I nearly died of joy because not only did it speak about sex in a sort of sex positive film -- you know, there's no need for women to feel shameful about owning their sexuality, which I think is so important -- but first and foremost, to have a movie that was about female friendship which you never ever see as a forefront of a story. Usually the friendship relationship is the sort of byproduct of one of the characters looking for Mr. Right and it's their sassy best friend…
"On the way to my wedding, she really helped me out."
(Laughs) Exactly. And so both of those facets of this script just immediately read as complete genius to me.
Then Miss Miller, I mean, she co wrote it, she's starring in it, she's producing it…
Yeah.
…her brother the hedge fund manager is the executive producer…
Yup.
Somebody having that much of a grip on the production ... is that heartening or is it a little bit intimidating in terms of "Where am I going to add?"
No, no. Because this, that, those are, that is all true. And she is the driving force behind this and it's such a deeply inspiring story that she took a chance on herself, and that's why we're all here. And at the same time, they came to me about eight months before we started shooting. This was before her brother was involved, and before Jamie Travis was involved, and next to Laurie and Katie (Ann Naylon, co-screenwriter) I was the next person to come onboard and so we formed this really incredible, creative unit, and then as soon as we got Jamie onboard it became the four of us and it was my first time executive producing, my first time as a lead, Jamie's first time directing a feature ... we all sort of had so much at stake in this project that we kind of became this unit together of learning how to do it all together, and that piece of it ended up being exciting and fulfilling in a way that few things ever have before and it never felt like because she was wearing all those hats it was anything less than like a beautiful collaboration with all of us because we were all so, all of us were wearing so many of them.
For a lighter question… at what point do you and the props master go over the weapons-grade gigantic sex toys?
Oh, my God.
I mean…
Well, did you hear that we had a  (sex toy) washing station?
Yes.
And…
Well, first of all hygiene's important.
It's massively… By the way, I need to clarify the (sex toy)  washing station was only for the section where we put them briefly in our mouths…
Right.
 ...  and nowhere else. But yeah, it was just such a funny set when you start hearing things like, "Do you want the (sex toys) in or out?" You know, you get sort of, you get, you build up a tolerance to the language of it all. But it was a fun, heavy prop set.
But at the same time, like, in terms of improving or changing a mood of a scene or being able to just goof off of a physical thing to make the scene better…
Yeah.
…you can't do much worse than a four-foot long shlong.
No, I mean, I think, look, I'm all for smart, clever, written wit .... but there's something to be said about a giant (sex toy) on a coffee table.
Show me a wang the size of a Volkswagen and I will invariably laugh.
(Laughs) There you go.
Like I'm 12 years old.
Yeah, as we all are inside.
17 day shoot.
Yeah, 16.
15? I thought it was 16 or 17. We'll go with 16. You were there; I wasn't.
Yeah.
Is it good to work that fleetly on your feet? The majority of the scenes are in the apartment. You obviously had access to it. It was obviously a real location. But when you have 16 days, does that kind of, as has been said about the prospect of being hanged in the morning, concentrate the mind?
I think so. I mean there were certain happy accidents, like it's funny that you say most of it was shot in the apartment and part of that was because we could only afford that location and so there's a lot of sort of inside jokes in the script like, "Do you remember the last time we've left this apartment?" or "I wish we were outside." And we put all those in because we had to cut basically everything out of the movie that didn't take place in the apartment or the few other locations that we could afford. And I think in the process of independent filmmaking that's the beauty of it -- you do what you have to do and then often you're better for it, you know? And it's hard to say because our reality was 16 days and that's what it was and that's what it will forever be. And sometimes it feels like such a luxurious daydream to imagine if we'd had more time and at the same time I'm so proud of where we got and what we made in that time, and I think when you're under the gun, you -- and especially because we all had so much invested in it as I said before, you know that this is our baby, so it was like we have to make this work.
The other thing is that in terms of like just being concentrated, you know you're locked in there with these people that also work remarkably well…
Yeah.
Does that make any sense? Like you're sort of with them and regardless…
That we're with each other in the process?
Yes. In the building, yeah.
Yes.
Do you find that sort of there's been a wave of sort of like the propagation of a wave set by Judd Apatow where finally people in movies talk like people in life?
It certainly is a lovely trend. You know, I think that comedy is cyclical and you know certain trends in movies comes in waves and a lot of this film for us was sort of a little bit nostalgic for the movies of the 80s, you know with the Bette Midlers and Shelley Longs and Goldie Hawns and Diane Keatons of the world. And I think a lot of those sort of comedies then were not just about getting the guy, and came from a really smart place with unique stories and really kind of strong yet vulnerable women and characters, and I feel like they spoke like people, too. And then somehow along the way, movies that involve women became more stilted and became more solely focused on romantic relationship. And I love rom-coms, so that's not to take anything away from them, you know. But it certainly is much appreciated that I think that people are appreciating real relationships and real dynamics in film. I think at the end of the day we all like to feel understood, we all want to see our own experiences replicated so that we can learn, so that we can feel less alone, and it's nice to feel like, especially in comedy it's starting to come back to some of that.
Were you privy to any of the discussions of the MPAA; was there anything that had to be cut to keep it at an R?
It's pretty amazing. We were nervous that we could, that we might get in trouble, but luckily the MPAA did not. We didn't have to cut anything. You know I think that's the thing about this movie is that it's surprisingly sweet. You know, that there is this phone sex piece and certainly we talk dirty and there's a level of bawdiness, but it sort of is wrapped up in like this little pretty pink bow, you know. And I think it would've been a different story if we were trying to be PG-13 (Laughs)…
Yes, yes.
...but luckily they didn't make us cut anything.
The idea of a PG-13 sex line is contradictory.
Can you imagine?
Dial 1-900- absolute disappointment.
I know.
Everybody always talks about the neurological differences about sex for men and women. You show a guy anything even remotely curved and he's like (Pants).
Uh huh.
But, you know, "Women need stimulus input, things to think about." A. is that true? And b. What did doing this film teach you about desire, for lack of a better word?
Hmm, well I think that certainly there's an emotional, a strong emotional component of sex for women, you know?
Right.
I think for Katie,  even when it's the work she does on the phone line, it allows her a certain sense of confidence and power in the moment that she is unable to feel in life. She's able to hide behind the phone to find that sense of herself then certainly her real connection with sex is a much more complicated issue that is deeply rooted in feeling loved and safe in an emotional connection, and that's true for Lauren in different ways as well. And in terms of myself and about what it teaches me about desire, I'm not sure if it's the question of desire (but) more of what it is to own your sexuality and not be afraid of that part of yourself and it doesn't have to be dirty and it doesn't have to be icky and it doesn't have to be shameful.  It's a part of human nature, it's a part of who we are, and I think for women sometimes it can be a way to ultimately feel a sense of ownership about yourself.
Did you keep that ridiculous, giant, pink push button phone?
There were two of the phones and Lauren and Katie each got them. But Jamie and I are going to have like a crafts night and make our own.
You're going to make your own phone?
Yeah! Anyone can do it. You could buy one. You buy a box phone on Ebay and you spray paint it hot pink  ...
("For a Good Time, Call ..." is in limited release; will this be Graynor's breakout role? Tell us on MSN Movies Facebook and MSN Movies Twitter.)