'The Revenant' Trailer: The Zombie Buddy Flick You've Been Thirsty For
Dead pals clean up the streets!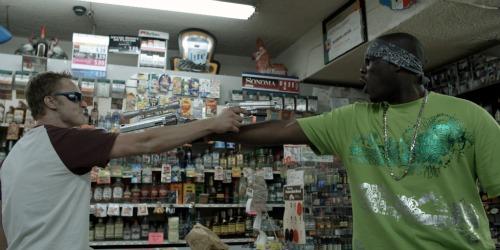 Think there's no such thing as a fresh spin on the zombie genre? Think again! In writer and director D. Kerry Prior's "The Revenant" (starring David Anders and Chris Wylde), two best pals use zombification for, of all things,
good
deeds.
The film centers on Anders' Bart Gregory, who essentially wakes up dead one morning. Unsure of just why he's dead (and loving it), yet still appearing to be alive, Bart turns to the only person he can, his best pal Joey (Wylde). It doesn't take long for the two to realize that Bart needs one thing to survive - fortunately, it's blood, not brains - and Bart and Joey quickly go about procuring some. But just what are two nice guys to do when they need so much blood to keep Bart going? Well, how about killing off drug dealers, jerks, and murderers? Talk about killing two birds with one stone.
A cult classic in the making, the film has already won the Best Director and Audience Awards at Fantastic Fest and Zompire (the Undead Film Festival).

"The Revenant" kicks off its limited release on August 24 (it will be available on VOD that same day). Check out the film's first trailer, along with release dates and cities, after the break.
August 24, 2012
Portland, OR - Hollywood Theater
Columbus, OH - Gateway Film Center
New York, NY - Cinema Village
Austin, TX - Drafthouse S Lamar
August 31, 2012
Denver, CO - Colfax 3
September 7, 2012
Durham, NC - Carolina Theater